So many parties, so little time!  Whether you're a cultural explorer, festival seeker, party animal, music junkie or you just like a good old knees up; party holidays come in all shapes and sizes and can add a bit of life to your getaway.  Forget about the typical drunken Brits abroad party destinations like Ayia Napa and Magaluf (unless you like that kind of thing) and about over the inflated Ibiza (it's had it's day).  Here are some of our favourite party holiday destinations around the world and some of the parties that should be on your bucket list…

Budapest Ruin Bars & Parties
World War II left much of Budapest's Old Jewish Quarter abandoned and in decay, this area is now the home of ruin parties which are held in these deserted buildings.  These funky, well hidden bars are bustling with atmosphere, dancing and each ruin party has its own little vibe. You won't hear them from the outside, they are quite well concealed, with make shift furniture – these parties aren't for everyone. If you prefer parties that are a bit glam, these might not be for you.

Caribbean Carnivals
Caribbean carnivals give you a bit of everything; culture, colourful costumes, sun and smiles.  Expect incredible soca and calypso music, big sound systems and good vibes.  Carnivals generally go on over an extended period of time – up to a month, with lots of different events including street parties, boat parties, beach parties, parades and steel band competitions to name a few.  There are carnivals through the Caribbean with most if not all Caribbean islands having their own celebrations. Some of the bigger ones are St Lucia Carnival and J'ouvert which is big in Trinidad (but also in other Caribbean islands) where people cover themselves in oil and mud (it's supposed to be a spiritual thing).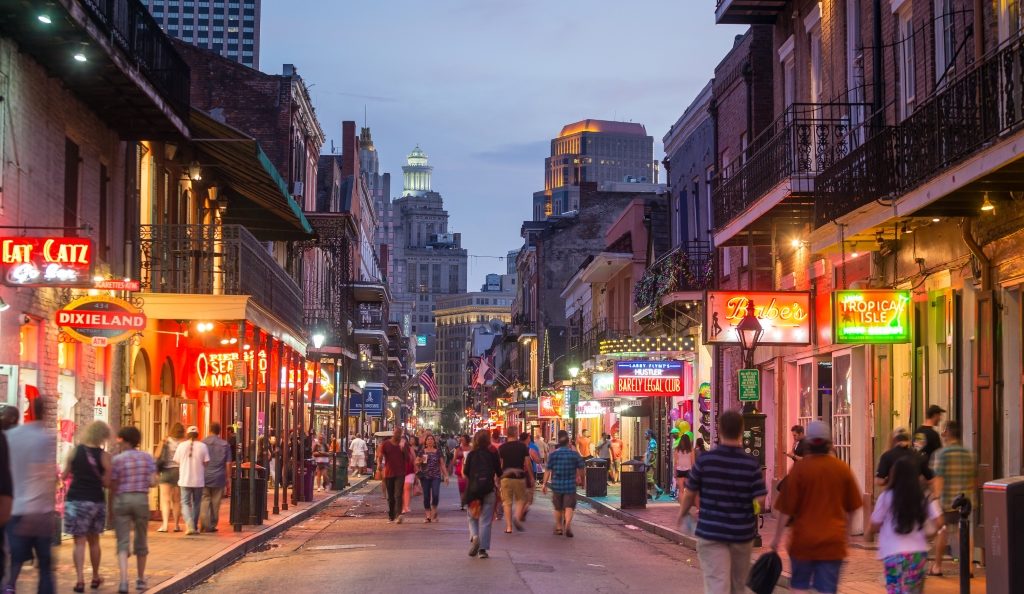 New Orleans
New Orleans is the home of Jazz and where some of the most influential music has come from so if you are a music junkie you will love it here!  Blues, RnB and French Creole music are also very popular (and very good) – as is the Creole food!  If you are heading to New Orleans, try and plan for going during Mardi Gras which goes on for about two weeks over Shrove Tuesday, there are several parades and parties during this time.  Outside Mardi Gras head to the well known Bourbon Street for an exciting mix of nightlife.

Cancun
Cancun is the lazy partiers holiday destination…. Imagine huge all-inclusive hotels, all next to each other, along a gorgeous strip of powder white sand beach and the bluest sea you have ever seen.  The hotels are pretty impressive and have extensive entertainment programs, day and night, including full on beach parties, club nights and world renounced DJ's like Tiesto and Armin Van Buuren playing.  Expect a lot of electronic dance music, sun bathing during the day and partying all night.

Croatia
Croatia is home to many party events and festivals with a wide variety of different music genres including psy trance, techno, hip hop, disco and even jazz.   There are lots f party destinations in Croatia, some of the most popular party places are; Pula where you can party inside the second biggest Roman Amphitheatre (the Coliseum in Rome is the biggest) which is possibly one of the coolest music venues!  Pula also has a small island that has psy trance parties on. Zrce Beach on the island of Pag is where many of the big EDM festivals are including Ultra, Sonus and Hideout Festival.  Pag is a big party island (possibly verging on the Ibiza and Magaluf side of things so prepare yourself!)  Other party locations in Croatia include Split and Hvar.

Las Vegas
A holiday to Las Vegas gives you lots of freedom so you can party as much or as little as you like, as well as soak up the sights – and there is loads to explore (find out more about what to see and do in Las Vegas). By night you can dance the night away at pool parties, roof top parties, casinos and night clubs.
Let Us Plan Your Party Holiday
Our customers love to party so we have been planning party holidays for many years; from Caribbean carnivals and clubbing holidays to Jazz events and everything in-between!  Take a look at our party holidays or let us plan one for you. We can arrange your hotels, flights and transfers. Just sit back and save your energy – you're going to need it! Book today and pay the balance later or in instalments.