Antigua Carnival – these people know how to party!
If you're heading to Antigua this summer, then you're in for a real treat. The island of Antigua celebrates the spectacular Antigua Carnival from 27th July until 7th August 2018 and promises to be the party of all parties with plenty of music, dancing and colourful fun. Attracting people from all over the Caribbean as well as global visitors from around the world, the Antigua Carnival provides an opportunity for Antigua to show off everything it has to offer.
The Antigua Carnival begins to heat up in the weeks before with various beauty pageants and dance competitions but it's the ten-day non-stop party that takes place at the end of July that is the big attraction. Celebrating the emancipation from slavery, Carnival holds much historical and cultural importance for Antigua and everyone joins in the celebrations in one way or another. Competitions are a major part of Carnival and the Party Monarch and Calypso Monarch competitions are two of the most popular whilst the election of Miss Antigua always draws in the crowds. J'ouvert takes place on Carnival Monday when the capital of St Johns packs out with people dancing to the bands and Carnival Tuesday reaches a crescendo when St Johns is filled with a flurry of colourful costumes, frantic dancing and beautifully dressed floats.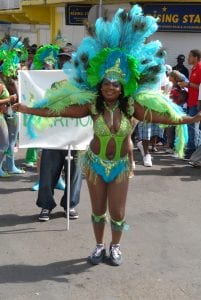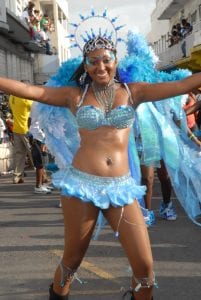 Music plays a massive part in the Antigua Carnival celebrations and includes genres such as calypso, steel drums, soca music and reggae and everyone gets into the party spirit. Alongside the main events, there are numerous smaller festivities taking place throughout the island of Antigua such as food fairs, parades and cultural shows, so wherever you may be staying you're sure to enjoy a part of the Antigua Carnival.
Don't miss this spectacular event this summer. Book your  Antigua flights and hotel with SN Travel – we are experts in the Caribbean so we can recommend the best places to stay and get you great rates on flights.  Plus you can book now and pay the balance off in instalments.