Book Flights to Dubai With a Low Deposit
Dubai is unlike anywhere in the world, taking extravagant to a new level. Imagine cars covered in diamantés – even the police have super cars!  Dubai takes luxury to a new level – what's even better is that a 3 star hotel in Dubai is still luxury to the rest of us so you get more for your money!  Whether you are planning a family holiday to Dubai, a group trip or a romantic break, this incredible destination has lots to offer.
Use the calendar to see when the cheapest flights to Dubai are, you can book your flights to Dubai on our website or, if you prefer to secure a flight deal with a low deposit and spread the cost then give us a call as this needs to be done over the phone.
Fast Facts About Dubai
Language:

English is the most spoken but officially its Arabic

Time Difference:

Dubai is 4 hours head of UK time

Currency:

Flight Duration:

Approx. 7 Hours direct from London

Visa:

British passport holders will be granted a FREE visa on arrival, no advance application is needed

Weather:

January to March and December are the cooler months and average around 25C degrees during the day – nights during these months are colder at under 20C. May to September is incredibly hot and in the high 30's and even over 40C degrees.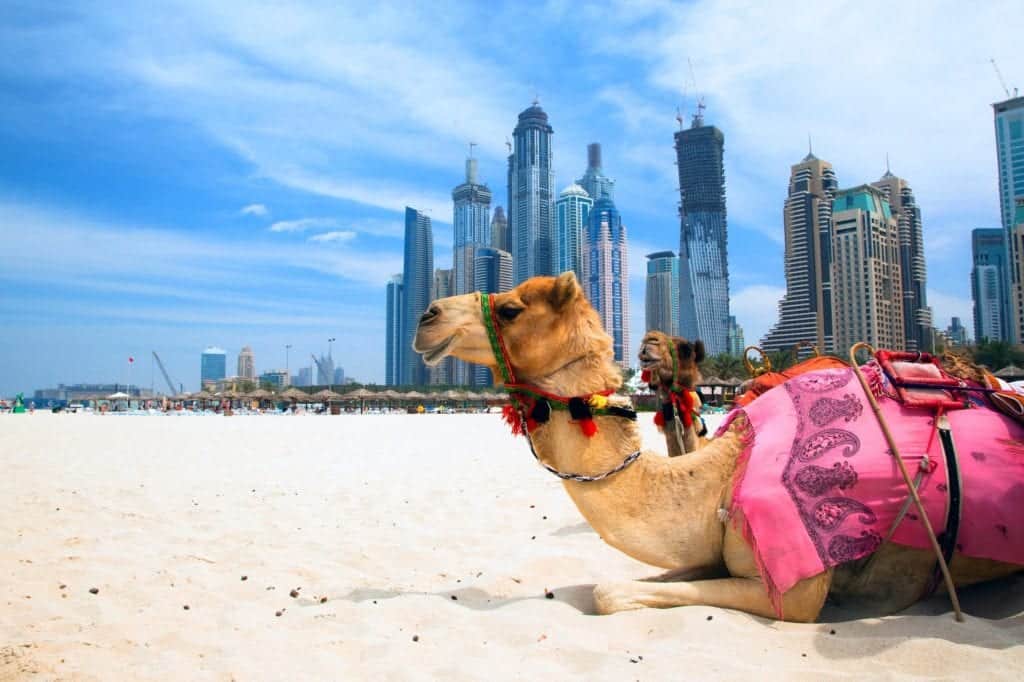 When To Go To Dubai
It's best to book flights to Dubai during British winter months as during our summer time the temperatures will be unbearable.  October to April are the best months to visit if you want the temperature to be comfortable.  The coolest months are December – February where the nights actually get to as low as 14 degrees so you might need a light cardigan or long-sleeved shirt. Dubai celebrates Ramadan for a month from the start of May to the beginning of June, it's not the best time to visit as attractions may have reduced opening hours. You can still visit but locals will likely be low on energy and your Dubai holiday will require a bit more planning.  Dubai shopping festival happens in January and February so if you like a bargain then it's a great time to visit!
Things You Need To Know About Dubai
There are some big cultural differences in Dubai so if you are visiting Dubai for a holiday there are a few things to keep in mind, for example: dress modestly in public areas (cover shoulders, not too much leg or cleavage on display) but around your hotel wear whatever you like. If you are a drinker then you need to go to bars, restaurants and clubs in hotel complex areas as no where else will sell alcohol – this is also where all the best restaurants are.  Some hotels in Dubai will require a couple to be married if sharing the same room – if you are travelling with a partner but are not married speak to one of our experts who can tell you where will be best for you to stay. Not all hotels are this strict!
How To Get A Cheap Flight To Dubai
Flights to Dubai are generally pretty consistent all year round surprisingly, with mid week best to travel – but we do often have deals for just over £300 for direct flights to Dubai from London airports. If you sign up to our weekly newsletter or text alerts, we can tell you when flight sales are on.  Alternatively, you can use the calendar at the top of this page to scroll through months to see when the cheapest flights are available.  By booking indirect flights to Dubai you can save up to £100 on a round trip but is it really worth losing a day in transit?
Three Things Not To Miss In Dubai
Just three things?  This is possibly the hardest destination to only pick the top three as there is so much to do!  These would be our top recommendations…
Overnight desert safari – after all, Dubai used to just be a desert so it's a good experience and it's so different from the city!  By day enjoy sand boarding on sand dunes, 4 x4 dune bashing (driving really fast on the sand dunes) and incredible sunsets. By night watch a fire show, belly dancers, eat a BBQ dinner around a camp fire and sleep under the stars.
Aquaventure Waterpark – This insane water park has a 9-story high drop slide (not for the faint hearted – it almost looks vertical!) and the world's longest waterslide. It's also located in the much talked about Atlantis Hotel on Jumeirah Beach.
Burj al-Arab – See The Palm and out of this world views from the top of Burj al-Arab – the worlds tallest building.  We must admit, it's a little daunting!  There is also a big shopping centre next door.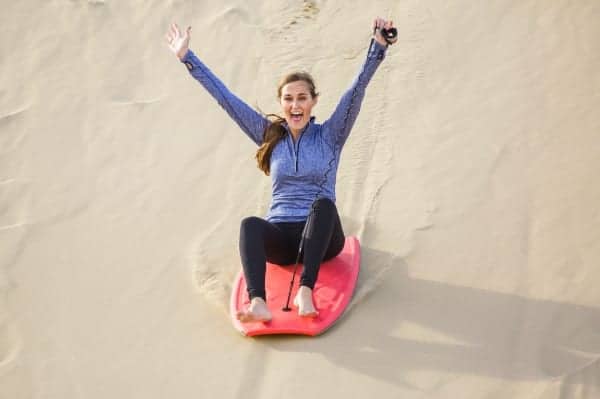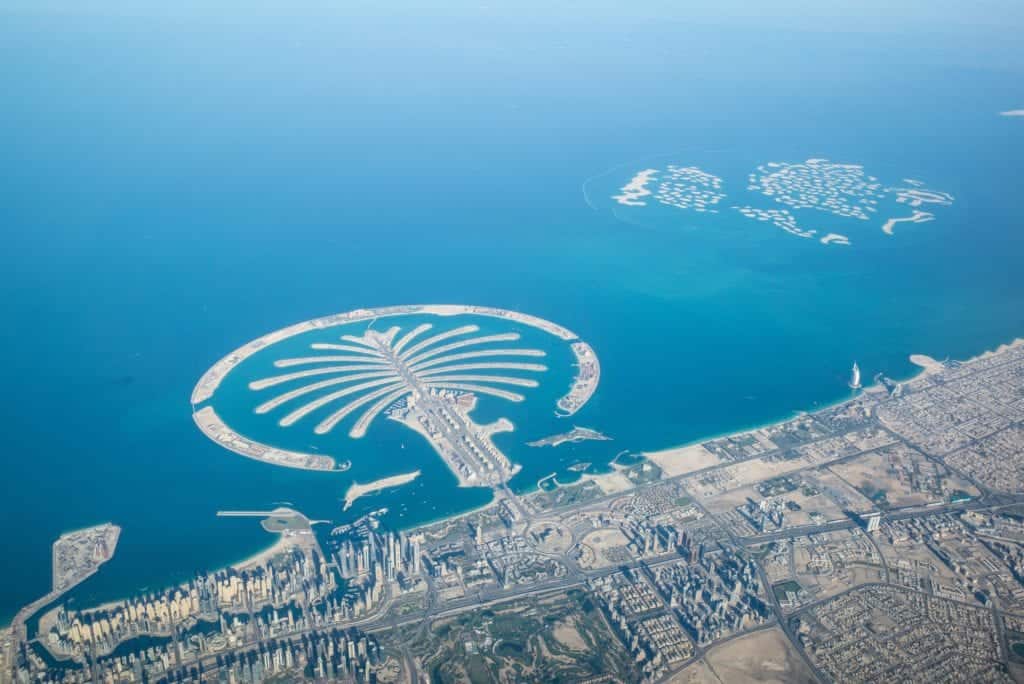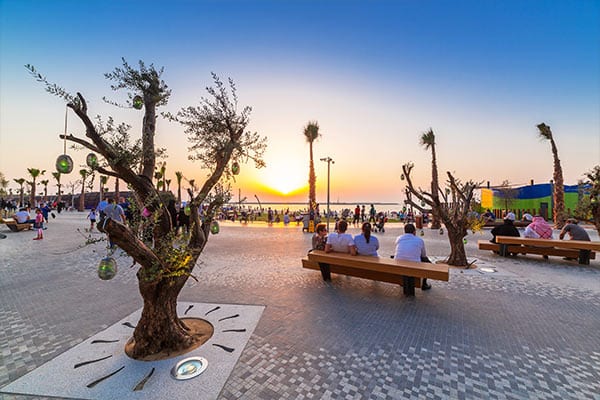 Booking Flights to Dubai
Click the button below to find and book flights to Dubai on our website which will take you to the top of the page where you can view a calendar to identify when the cheapest flights are.  Get cheaper flights to Dubai by registering for the SN Travel Club to get a reduced price whenever you are logged in. As part of the SN Travel Club you will receive a weekly email with deals, competitions or travel inspiration. If you are planning a holiday to Dubai we get fantastic deals – give us a call on 0207 254 0136 or send us an email as we can arrange everything for you, give you all the advice and tips you need – and get you a great price.
Get members only pricing!
BOOK TODAY & PAY IN INSTALMENTS!