What You Can Expect on a Holiday to Abu Dhabi
Abu Dhabi is a fantastic all-inclusive holiday destination that rivals Europe, not only on price but the quality of the hotels, beaches, cuisine and attractions too! Whether you are travelling as a family looking for relaxation and entertainment, a couple craving a care-free break or a group of friends looking forward to a break from everyday life, an Abu Dhabi holiday will suit you perfectly.  As the capital of the United Arab Emirates, Abu Dhabi is a feast for the eyes with its modern skyline featuring towering buildings next to Islamic architecture – a fascinating contrast that makes great photos, along with sprawling shopping malls or more traditional souks to satisfy even the most seasoned shoppers. Featuring a stunning marina and the diversity of contemporary areas alongside historical towns and even scenic sandy beaches, Abu Dhabi holidays offer incredible value for money and it is only an hour and a half drive from Dubai if you want a day out to explore there.
What to See and Do on Your Abu Dhabi Holiday
A comfortable sun lounger, delicious cold drink in hand, the breeze lightly cooling you down after a refreshing dip in the calm sea, waiting for a sumptuous lunch to be served… if this is your idea of the perfect day on holiday, Abu Dhabi will not disappoint. What about a trip to one of the many modern malls to literally shop 'til you drop into a chair in one of the city's numerous 5-star restaurants to indulge in food fit for a king (or queen!)?  If you fancy a bit of adventure you can visit the Ferrari World theme park, visit the water world on Yas Island or race over sand dunes on a dune buggy.
This is just the tip of the proverbial iceberg when it comes to what one can do while on holiday in Abu Dhabi. Similar in some ways to popular Dubai, but more calm and as easily accessible, Abu Dhabi is an excellent destination for affordable beach getaways that boast a quality level superior to Europe while still offering the culture and interest along with the option to visit Dubai which is close enough for exciting day trips. Abu Dhabi is also a great holiday destination for sporting events like F1 and golf.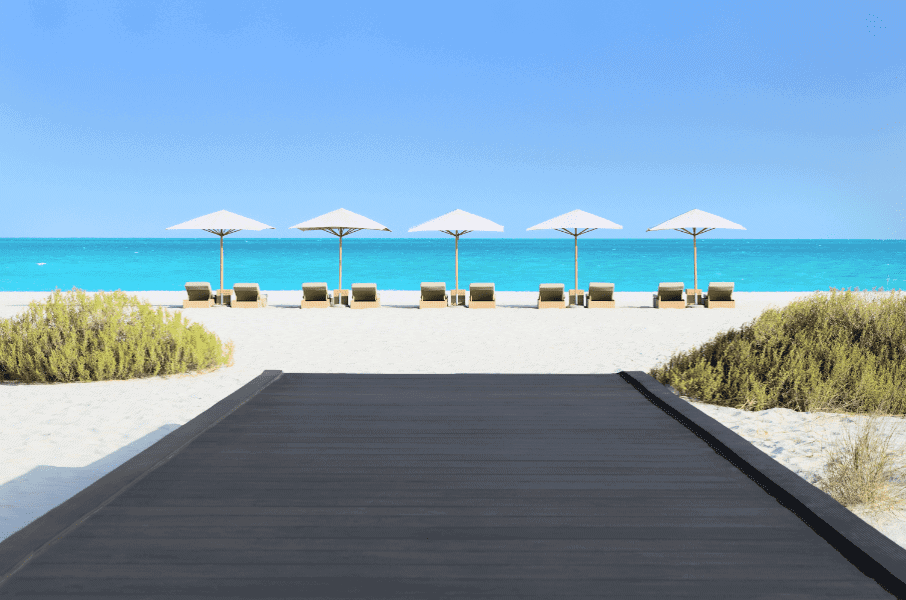 Fast Facts About Abu Dhabi
Language:

Arabic, English

Time Difference:

Abu Dhabi is 4 hours ahead of UK (GMT +4)

Currency:

UAE Dirham

Flight Time:

Approx. 7 hours 15 minutes

Visa Required:

British passport holders will be granted a FREE visa on arrival, no advance application is needed and will enable a maximum 30-day visit.

Weather:

August is the hottest month here with temperatures in excess of 36C. The coolest month in Abu Dhabi is January with temperatures averaging 18C. We love to visit in spring or autumn that way you get the best of everything.
Areas to Stay in Abu Dhabi
Abu Dhabi – a glistening jewel in the crown of the United Arab Emirates – surrounded by crystalline waters, towering with impressive buildings, five-star restaurants, luxurious hotels and attractions to rival any popular holiday destination, this Gulf city has it all. Quieter than neighbouring Dubai, Abu Dhabi offers a range of accommodation types from luxury hotels, smaller boutique hotels, self-catering and serviced apartments to suit any budget. Choose from bustling downtown areas or the calmer suburbs, but if you are hankering after a stunning ocean view, you'll find a range of hotels along Abu Dhabi's outstanding eight-kilometer waterfront, known as The Corniche. If you'd prefer to be closer to the airport, near to the Abu Dhabi F1 Grand Prix track and have family friendly theme parks on your doorstep, the attractive Yas Island is for you. Call or email us for advice on the perfect hotel!
SN Travel has some of the hottest holiday deals to Abu Dhabi. We will be more than happy to put together an itinerary to suit you. Your money goes far in Abu Dhabi as the quality is generally much better than Europe. We can create your all-inclusive holiday in Abu Dhabi, simply tell us your holiday preferences and we will put together the perfect holiday – at the perfect price! Call us or email us for a personalised quote.
Booking Your Holiday to Abu Dhabi
Let us take care of everything – we will create the perfect Abu Dhabi holiday at the perfect price.  We take the time to understand what you need from a holiday and then identify the perfect resort for your holiday style and budget and secure you a great deal on flights.  If you would like us to, we can also arrange hotel transfers, airport parking, car hire and day trips and give you a full itinerary so you don't have to lift a finger.  We plan seamless holidays, so from the time you step foot in the departure airport until you have landed back home, we ensure all the little extras are taken care of, we cover all the important details – and you can even pay for your holiday in instalments!
Get members only pricing!