What You Can Expect On A Holiday To Sri Lanka
Nestled between India and South-East Asia, Sri Lanka is packed with natural beauty, rich culture, delicious food and friendly locals. From its pristine sandy beaches to lush green rainforests, Sri Lanka's a place of pure paradise, and it's got spectacular views to match. But it's not just barefoot relaxation that's on the menu; it's the ultimate spot to try out some surfing, take a hike up its rolling hills and discover the hustle and bustle of the busier cities. When it comes to your holiday, Sri Lanka really does have it all.
What You Can See and Do On a Holiday to Sri Lanka
Yala National Park in the South of Sri Lanka is home to many species of awe-inspiring wildlife, and is the country's number one place to see leopards. Take a safari tour and come face to face with elephants, buffaloes, monkeys and even crocodiles. Parts of Yala Park reach the Indian Ocean, so it's surrounded by some of the most jaw dropping sights Sri Lanka has to offer.
Sri Lanka is quickly earning its name as a surfer's paradise, too. It's perfect for beginners, with challenging swells, sand-bottomed beaches and clear waters. Head to Weligama Beach in the South and experience peace and quiet coupled with tonnes of history on nearby Taprobane Island. Mirissa Beach boasts a chilled out vibe and old school surf charm, and is a great place to try a spot of whale and dolphin spotting, too. The more experienced surfer should head to Hikkaduwa, where the surf breaks on the reef to offer a bit more of a challenge.
Love tea? Then a visit to one of Sri Lanka's tea plantations makes a wonderful stop on your Sri Lankan holiday. Take in the wonderful sights of the sloping, mist-covered hills and dense green foliage, before embarking on a guided tour to discover how their fragrant tea is picked and made. There are loads of charming tea estates throughout Sri Lanka to visit, including Mackwoods Labukeliya factory, which was founded in 1841, and Kandy, the birth place of tea in the country.
And of course, no trip to Sri Lanka should be without a trip to one of its spectacular Buddhist temples. From the Temple of the Tooth to Pidurangala Royal Cave Temple, you'll be hit with a sense of gentle calm and wander as you stroll around the sites, The Golden Temple of Dambulla is a UNESCO World Heritage Site, featuring intricate artworks, paintings and statues that are not to be missed.
Fast Facts About Sri Lanka
Language:

Sinhala and Tamil but many people will understand English too

Time Difference:

Sri Lanka is 5 hours 30 minutes ahead of UK time

Currency:

Flight Time:

Approx. 10 hours and 45 mins from Gatwick

Capital:

Visa Required:

Entry into Sri Lank requires a visa, which you can apply for online at www.eta.gov.lk. Your passport should also be valid for a minimum period of 6 months from the date of entry into Sri Lanka.

Weather:

Sri Lanka is a year-round destination as temperatures remain in the low 30s throughout the year. The wet seasons runs in the West and South-West from May to December, and October to February on the East Coast and North region.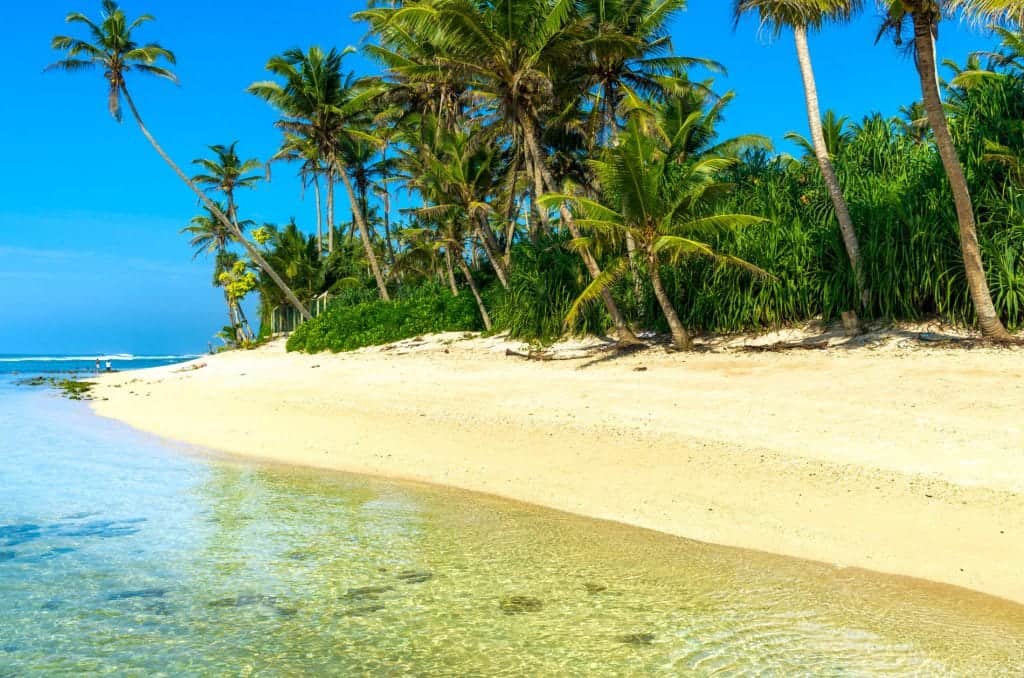 Where to Stay in Sri Lanka
Negombo in the West lies close to Bandaranaike International Airport, and is perfect if you're after a friendly all-inclusive resort with beautiful beaches and spectacular scenery. Or head to Kalutara, which is rich in culture with Buddhist temples and ancient fortifications. Columbo, the capital of Sri Lanka, is bustling with authentic markets, wonderful restaurants and shopping spots. If you're a nature lover, be sure consider one of Sri Lanka's National Parks. Udawalawe and Yala are two of the country's most popular, as you can expect to see a whole host of amazing wildlife including elephants, sloth bears, lizards and leopards, to name a few.  The nearest beach holiday destinations to these two National Parks are Unawatuna and Tangalle.
Booking Your Holiday to Sri Lanka
Whether your booking's big or small, we can create the perfect Sri Lanka holiday for you. Let us know your specific requirements and we'll find the best-price flights and accommodation. And don't worry about airport parking, transfers, lounge passes and car hire – we'll sort all of the little things, so you don't have to. You'll also be able to pay in instalments or spread the cost of your holiday to make life a little bit easier.  We can also arrange escorted tours for a few days or for the whole of your Sri Lanka holiday so you can get to see more of this beautiful country.
Other Destinations You Might Like
If you like the sound of Sri Lanka then the Caribbean might be somewhere else that you should explore.  Some of the lesser visited islands like Tobago, Dominica and Grenada have beaches and wildlife to discover.  You can also check out our travel blog if you need some inspiration.
Get members only pricing!