Get a Great Deal on Flights to St Lucia
From the sugar-sand beaches of Pigeon Island in the north to the sculpted peaks of the Pitons in the south, St Lucia packs in such a wonderland of natural features that it's often hailed as the most beautiful of all Caribbean escapes. There are volcanos that host dramatic roadways ringing around their craters. There are crashing waterfalls in lonely pools shrouded by parrot-packed jungles and blooming sausage trees. There are soaring coastal mountains, rising from cobalt-blue seas to pierce the clouds like daggers of rock.
Towns  bustle with the buzz of Caribbean life, from uber-romantic Soufriere with its bobbing yachts and rum shacks, to Castries and its markets and cruise terminals. An abundance of flights to St Lucia makes this paradise readily accessible from the UK, too, dropping you down between the jungles and hot springs, the coves and cave restaurants in less than 8.5 hours when going direct.
.
Special Offers to St Lucia
St Luica is a stunning island with endless activities and sights – plus plenty of gorgeous beaches. These are just some of our latest holiday deals to St Lucia. If you have something particular in mind you can call us on 0207 254 0136 or email us for a quote.
Experience the magic of St Lucia Carnival on your St Lucia holiday with this incredible holiday dea…
Fast Facts About St Lucia
Language:

Time Difference:

St Lucia is 5 hours behind UK time

Currency:

Eastern Caribbean Dollar EC$

Flight Duration:

Approx. 8 Hours and 30 minutes

Capital:

Visa:

British passport holders do not require a visa to visit St Lucia

Weather:

Temperatures are consistent all year round, averaging about 30°C. Hurricane season runs from June to November but September is really only the months that are at risk from tropical storms.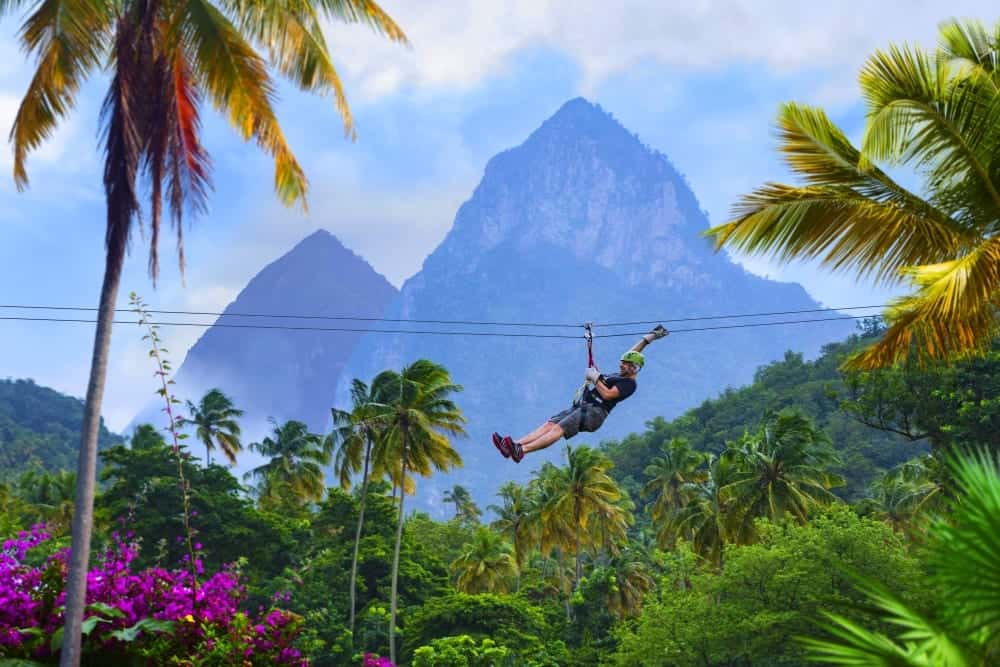 Things You Need to Know About Flights to St Lucia
This spectacular island is only 8 hours and 30 minutes from the UK and you can get direct flights to St Lucia from London.  International flights are served by the Hewanorra International Airport in the south of Saint Lucia whilst inter island flights can be taken from the George F.L. Charles Airport in the north of Saint Lucia.  If you need to travel from one airport to the other you can fly or the scenic hour and a half drive through lush rainforest is also a lovely way to see the island.
St Lucia has two international airports. There's the George FL Charles Airport close to the yacht marina of Castries. And then there's slightly larger Hewanorra International Airport right on the south tip of the island. The first is the best arrival point if you're keen to hit the luxuriant resorts that string along the sands of Pigeon Point. The second is better if you've got hiking expeditions up the Pitons and encounters with smoke-spurting volcanos on the menu. Travellers with a UK passport don't need to apply for a visa to enter St Lucia, but it is necessary to have at least six months' validity on your document when you arrive.
Best Time to Visit St Lucia
To catch the best weather – the calmest seas, the driest days – you'll want to be sure to book those St Lucia flights for between December and April. That's when precipitation levels fall to a minimum and the temperatures hover in the high 20s – perfect for sunbathing, beachcombing and climbing the Gros Piton. Unfortunately, that's also the busiest time of all in the whole of the West Indies, which means you'll pay extra for rooms and car rentals. To dodge soaring rates, it might be worth considering heading over in months like May or June. They might have a little more rain, but they are long before the hurricanes of autumn arrive, and there are far fewer people competing for the best hotels and towel space on the sands.
Experience the magic of St Lucia Carnival on your St Lucia holiday with this incredible holiday dea…
How to Find Cheap Flights to Saint Lucia
As one of our most popular destinations, we have superb deals on flights to St Lucia. There are also plenty of tricks and tips to bear in mind when looking for bargain St Lucia flights. The thing that has the greatest effect on the cost of tickets is probably the time of year you want to travel to this jewel in the Caribbean Sea. Months between December and April see huge hikes in the cost of fares, while early summer can herald some seriously wallet-friendly seats. Booking in advance is another way to seal low-cost flights to St Lucia, with the average price of airfares creeping upwards the closer you get to your desired take-off date.
Our Best Selling Hotels in St Lucia
Take a look at our best-selling hotels in St Lucia below. We are happy to find the perfect hotel for you, simply tell us your requirements and we can find and arrange everything for you, sit back and relax while we do all the hard work. 0207 254 0136.
Fabulous family friendly holiday resort in Saint Lucia, perched right on the beach in Rodney Bay.
What to See and Do in St Lucia
You will be spoilt for choice in St Lucia as there are so many attractions and sights to enjoy, here are our top 'must see' recommendations:
The Pitons – A duo of stunning volcanic peaks that rise almost vertically from the Caribbean close to the town of Soufriere. Come to hike, explore the jungles and gain breathtaking views across the coast and the sea.  
Drive through volcano – St Lucia has the only drive through volcano in the world; see sulphur springs, steam and have a mud bath!
Pigeon Island – A two-peaked island on the northern edge of St Lucia that has colonial forts and a fringing of postcard-worthy white-sand beaches.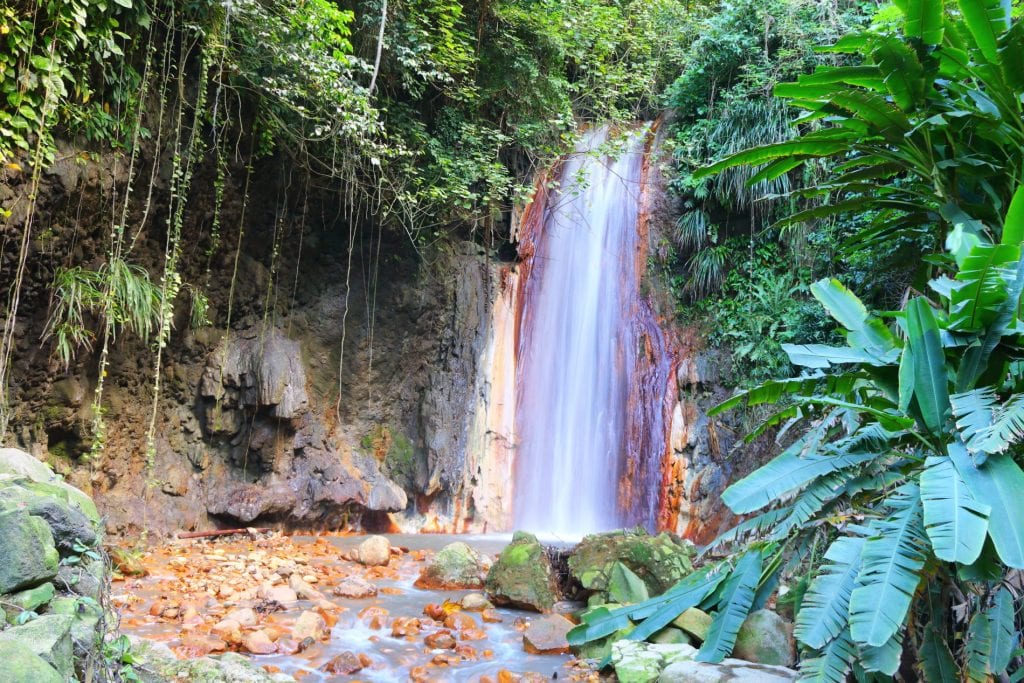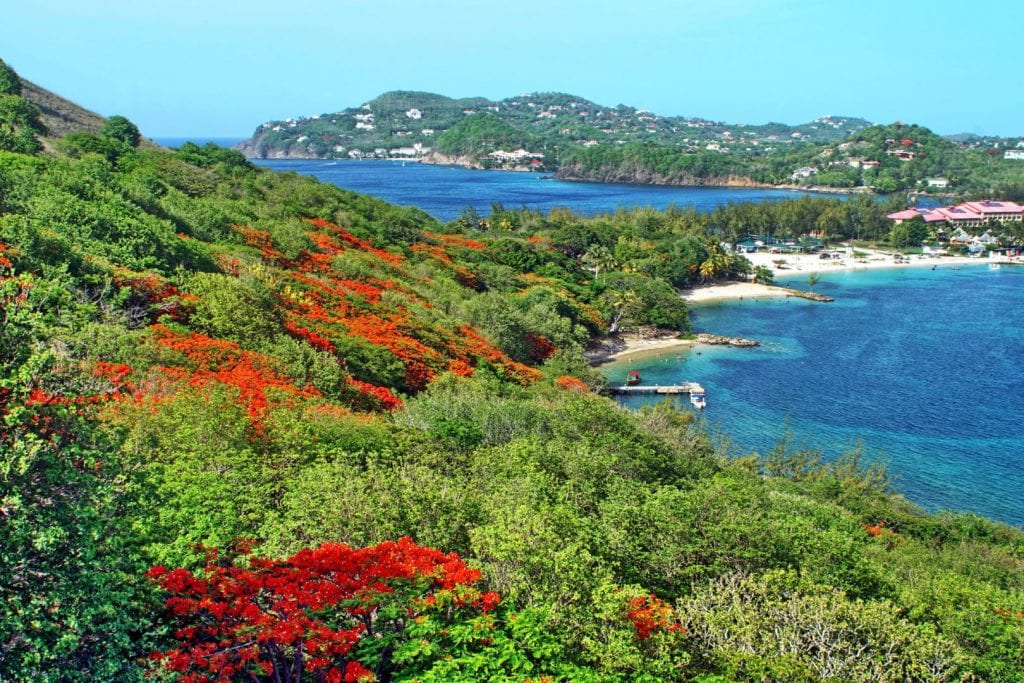 Booking Flights to St Lucia
You can book your flights to St Lucia on our website, you can either use the search bar below to check specific dates, or if you just want to find the cheapest prices you click the 'search flights' button below to view a calendar to identify when the cheapest flights are.  Get cheaper flights to St Lucia by registering for the SN Travel Club to get a reduced price whenever you are logged in. As part of the SN Travel Club you will receive a weekly email with deals, competitions or travel inspiration.  If you are planning a holiday to St Lucia give us a call on 0207 254 0136 or send us an email as we can arrange everything for you – and get you a great price.
Get members only pricing!