What You Can Expect On A Holiday To Aruba
Well-known for its white sand beaches and its tropical climate, Aruba is outside the hurricane's ring so it makes the best Caribbean destination to holiday all year round.
this is a great destination for action-packed holidays, luxury escapes and incredible wildlife. Even though Aruba is a small Caribbean country, the island is packed with things to do and see. From feeding pink Flamingos on Renaissance Island, a private island resort that gives free access to this distinctive beach, diving through the shipwrecks, and admiring the natural wonders to discovering an amazing culture through its delicious food and culture. With a vibrant nightlife and a wide range of water sports, beaches and coves, Aruba is, without doubt, one of the gems of the Caribbean.
What To See And Do On Your Aruba Holiday
Aruba is home to the most incredible natural caves and bridges some of which can be found in Arikok National Park. You can also go bird spotting in Bubali Bird Sanctuary located at a walking distance from Palm Beach, which is home to more than 80 bird migratory species. Divers would be delighted with Boca Catalina and the Antilla Shipwreck, 2 of the main spots for snorkelling and diving. For beach seekers visiting Eagle Beach is a must! The often called "1 of the 10 best beaches in the world" has crystal clear blue water and soft white sand that goes on for miles. This beach has calm waters with light waves. There are many different water sports offered on this beach including jet skiing and tubing.
Aruba is home to many natural bridges located on the rugged north shore of the island, these are truly natural gems and you can find more of these natural bridges on the southern coast of the island. There are many tours you can book to explore the different parts of the island, from trikes, horse rides even submarines to night tours on the Kukoo Kunuku bus!  That's if you can drag yourself away from one of its spectacularly beautiful beaches that is!
Language:

Time Difference:

Aruba are 4 hours behind the UK

Currency:

Flight Time:

Capital:

Visa Required:

British passport holders do not require a visa to travel to Aruba

Weather:

Temperatures are steady throughout the year with an average of  28 degrees. Aruba lies outside the Caribbean hurricane belt so any time of the year is good to visit.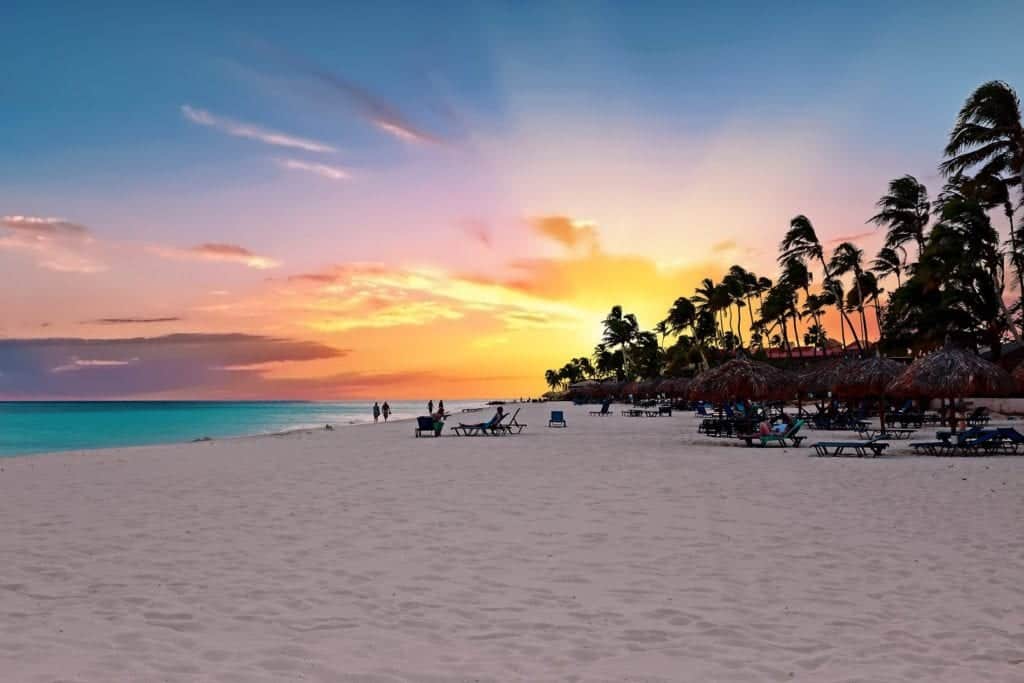 These are some of our most popular hotesl in the Caribbean .  If you need advice of what hotel is best for your St Kitts & Nevis holiday just ask us! 0207 254 0136.
The only Park Hyatt resort in the entire Caribbean, the simply stunning Park Hyatt St Kitts provide…
Aruba has a wide range of accommodations to fulfil the needs of any type of traveller. From luxury resorts on the tranquil Eagle Beach or in the bustling area of Palm Beach to a homelike experience with the opportunity to mix with locals, Aruba wide offer is perfect for you to unwind and disconnect from the day-to-day routine.
Booking Your Holiday to Aruba
Finding and booking a holiday can be stressful – so leave it to us! Simply tell us your preferences and we will find the best value flights and accommodation for you.  SN Travel can plan your holiday to Aruba including return flights, accommodation, transfers and even airport parking. We have a wide range of Aruba hotels to suit your individual requirements. In addition, we can arrange airport parking, transfers, lounge passes and even car hire.
Other Destinations You Might Like
With so many islands in the Caribbean it can be difficult to choose where to go – if you need any advice just ask!  We are a Caribbean specialist travel agency so we can help you decide which island would best suit your holiday style.  You can also check out our travel blog if you need some inspiration.
Get members only pricing!