What You Can Expect On A Holiday To Cancun, Mexico
Combine spectacular beaches, vibrant nightlife, historic Mayan ruins and a selection of some of the best hotel resorts in the world.  Mexico is an exciting and colourful Central American country whose expanse of land is bordered by both the Caribbean Sea to the east and the Pacific Ocean to the west. The most popular holiday destination in Mexico is Cancun.  Cancun sits on the Caribbean coast and is home to an array of fantastic coastal resorts and promises endless stretches of soft white sandy beaches, a second to none nightlife, theme parks galore and plenty of Mayan history.
Fabulous five-star family resort with a prime beachfront Cancun location.
What To See And Do On Your Cancun Holiday
On a holiday to Cancun you can expect 22km of soft powdery white sand beaches, lapped by warm azure waters and framed by swaying palms.  Shops, restaurants, bars and nightclubs fill Cancun to the brim and its certainly perfect for those who love to be at the heart of the action. Those who love to party will be in there element.
Families will also enjoy a holiday in Cancun as the all inclusive hotels are superb and cost effective with great entertainment for the whole family.  Head down the coast and Playa del Carmen is slightly lower key yet still lively whilst just a little further Tulum brings everything down a notch or two with secluded beaches and a tranquil vibe. Tropical jungles and an abundance of Mayan ruins can be found in this part of the country – so its no surprise that Cancun holidays are becoming very popular! Families will love the Xcaret Eco Park where over 50 attractions are on offer within the Mayan jungle.   From your hotel in Cancun you can visit the Mexican Caribbean Island of Cozumel which is a must for divers and snorkelers.  Cozumel is home to the second largest reef in the world it offers an outstanding experience.  A holiday to Mexico wouldn't be complete with taking in some of the incredible Mayan ruins and the best places to visit are Chichen Itza with its iconic pyramid and Tulum with its clifftop ruins.
Fast Facts About Cancun, Mexico
Language:

Time Difference:

Cancun is 5 hours behind the UK

Currency:

Mexican Peso but US Dollars are widely accepted

Flight Time:

Capital:

Visa Required:

UK passport holders do not require a visa for Mexico. All you need to do is complete a tourist card on your flight to Cancun.

Weather:

The peak season for a holiday in Cancun is between December and April as the weather is best.  Keep in mind that Cancun will be packed with US party animals on Spring Break from mid March to early April.  You can get some good Cancun holiday deals in November, May and June and avoid the crowds.  September and October is prone to storms.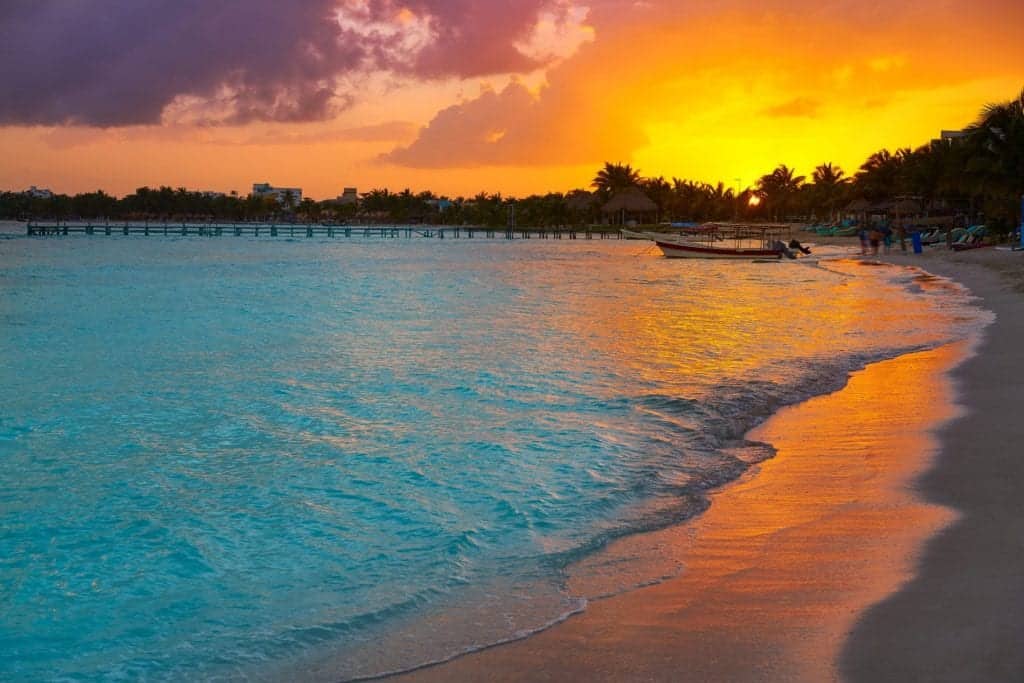 Where to Stay in and Around Cancun
If you are looking for an all inclusive resort on a beautiful beach then head to Cancun's Hotel Zone.  If you want a quieter more relaxed location then head further down the coats to Tulum. If you want something in between the two then Playa Del Carmen might be more up your street.
Booking Your Holiday to Cancun, Mexico
Whether you are looking for all inclusive holiday deals to Cancun, a bargain holiday deal in the sun or a group holiday, SN Travel can arrange everything for you including transfers and tours.  Finding the perfect holiday can be stressful, so just leave it to the experts.  Simply tell us about the type of holiday you are looking for and we can find you something ideal at the right price. You can spread the cost of your holiday with our pay in instalments option. 
Other Destinations You Might Like
With so many islands in the Caribbean it can be difficult to choose where to go – if you need any advice just ask!  We are a Caribbean specialist travel agency so we can help you decide which island would best suit your holiday style.  You can also check out our travel blog if you need some inspiration.
Get members only pricing!