What You Can Expect On A Holiday To New York
The Big Apple is one of the biggest cities in the world and there is no wonder there are hundreds of things to do and see so it's not a surprise that a New York holiday is a popular choice. The bustling streets are an explosion of colours, activity and diversity! There are famous sites to see just around every corner: from the Brooklyn Bridge to the mind-blowing Broadway, from Coney Island to Central Park. New York is also home to some amazing museums and the scene of incredibly tasty cuisine, so you can easily get lost in time while visiting it. Take advantage of the fact there is never a bad time to holiday in New York and as there is so much to see and do you can visit many times and still have an action packed city break!
Stay in a hotel with a theme park, water park and pool with bar. Book now & pay later!
Stay in the heart of Manhattan within walking distance to many of the major attractions
What To See And Do On Your New York Holiday
New York offers hundreds of bucket list experiences, all year round. Start with the staples of the Big Apple and climb on top of Empire State Building to admire the panorama. Both kids and adults will love the inspiring views over the city. Another place you can't miss is the 9/11 memorial, that remembers everyone that human resilience can overcome any tragedy.
If you visit in spring or summer stroll down the Central Park admiring the Belvedere Castle, CP Carousel and the 2000 years old Egyptian obelisk. Make sure you reach the Conservatory Garden, where you can admire the flowers in English, French and Italian style gardens. No visit to New York is complete without a tour on the iconic Brooklyn Bridge, which influenced the local's minds and souls since it's completion in 1883. You can take a guided tour or do your own walk on the bridge. Look for the romantic display of love locks near Manhattan Tower.
Yellow cabs and the subway are two of the iconic means of transportation in New York, so try each of them at least once during your stay for a memorable cultural experience, the subway is a cheap and easy way of getting around.  If you plan your New York holiday around Christmas time, Bryant Park Winter Village should be your top priority. Each year it hosts a lot of seasonal events and activities. Here you can ice skate for free or enjoy the food hall, shops and ringside bar. Another winter attraction is Miracle on 9th Street, a holiday-inspired bar that serves Christmas themed drinks with fun names and candy cane garnish. Their speciality is the eggnog, which is a delight for the entire family.  Rockefeller Center Christmas Tree is the ultimate New York at Christmas image, so make sure you get to visit it during your winter holiday to New York. Once there, you can also try your ice skating skills on the rink under the sumptuous tree.
Fast Facts About New York
Language:

Time Difference:

New York is 5 hours behind London time

Currency:

Flight Time:

Visa Required:

British tourists can visit the US (including Las Vegas) for up to 90 days with an ESTA. There is a small charge for this.  We can arrange your ESTA for you. Your passport should be valid for a minimum of 90 days from the date of entry into the US.

Weather:

The weather in New York is quite similar to London but a few degrees colder with seasons that reflect those in the UK. January can get to around -2C and August often gets to 31C.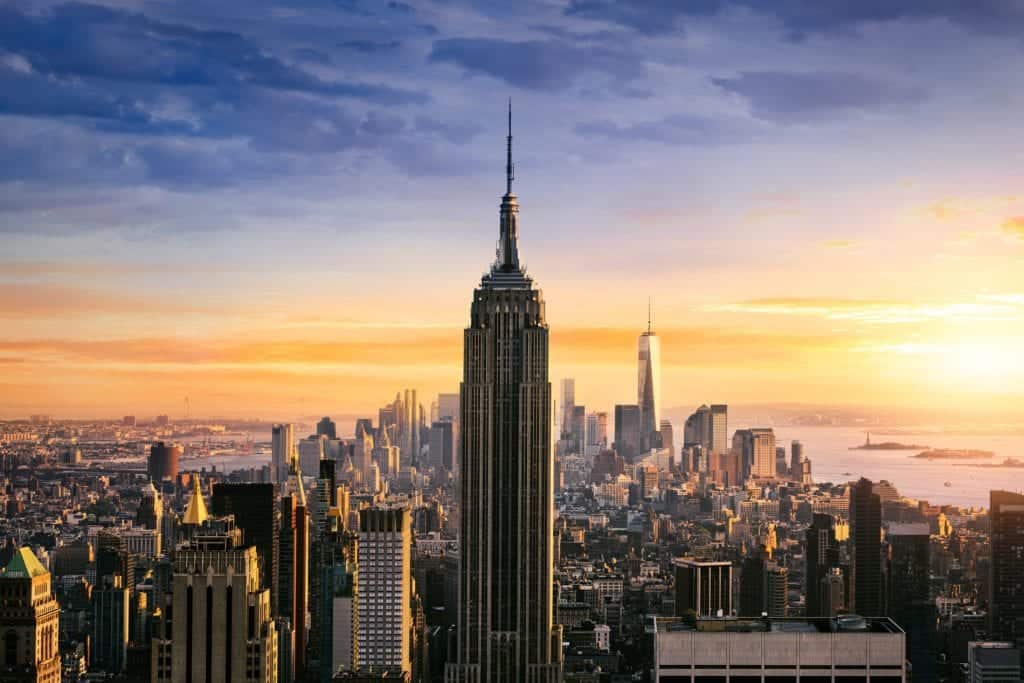 Where to Stay in New York
New York offers a lot of things to do for the traveler, in every season. Before you can start ticking off items from your sightseeing list you need to set up your base in a hotel. As you can expect from a large city, there are plenty of options. Two of the best luxury hotels in New York are Mandarin Oriental, where you will find spacious rooms with floor to ceiling windows, and Park Hyatt, located in the heart of New York. If you are looking for the best boutique hotels book a room at Library Hotel or the Crosby Street Hotel. For a budget-friendly stay go to the Skyline Hotel New York or the Travel Inn Midtown Manhattan.
Booking Your Holiday to New York
Planning a holiday abroad can be stressful, as there are so many things to do and remember. Luckily, we are here to help! Just tell us what are your needs and what you want from your dream holiday and we can take care of everything. We can find the best value hotels and flights, as well as arrange transfers, airport car parking, car hire and lounge passes. And you can pay these services in instalments!
Other Destinations You Might Like
With so many things to do and see in New York it's hard to choose where to go, but there is more! If you want to enjoy a couple of beach days on your holiday to New York, we can add in a stop in the Caribbean or somewhere else in the US so you get two holidays in one.   You can also check out our travel blog if you need some inspiration.
Get members only pricing!