Get a Great Deal On Flights to Aruba
Aruba is a small island off the coast of Venezuela with a sunny weather and perfect beaches. Belonging to the Caribbean, this tiny island also has a rich culture, making it perfect for your next holiday. Book your Aruba flight and get ready to enjoy all the things it has to offer.
Start by visiting the shops of the capital Oranjestad, the main landing point for flights to Aruba, then go straight to a sunbathing session on the pristine beaches lined by turquoise water on Eagle Beach or Manchebo Beach. You can try many new activities, from snorkeling to scuba diving and cruising. If you want to keep your feet on the ground, go for the Natural Pool Safari or the Aruba ATV tour. The wildlife can also be seen from the back of a horse, during a horseback riding tour.
Aruba holidays are not complete without a tour of the nightlife scene, which includes several casinos, comedy clubs and pubs. The local cuisine is another gem of Aruba. One must try the unique Dutch-Caribbean food, which includes spicy dishes filled with Caribbean flavors, as well as Dutch specialties. Don't leave Aruba before you've tried one of the local seafood dishes, made from freshly caught red snapper or mahi mahi.
Fast Facts About Aruba
Language:

Dutch; English is also spoken by many locals

Time Difference:

Aruba is 5 hours behind UK time

Currency:

Flight Duration:

About 1.5 hours to Amsterdam and then 10 hours to Aruba, you will also an hour or so connection so the total time from London to Aruba is minimum of around 13 hours.

Capital:

Visa:

UK citizens don't need Visa to travel to Aruba

Weather:

The weather in Aruba is hot, perfect for a holiday. The average temperature is around 30 degrees celsius all year round. The rainy season starts in September and it ends in December; for the rest of the year there is very little rain.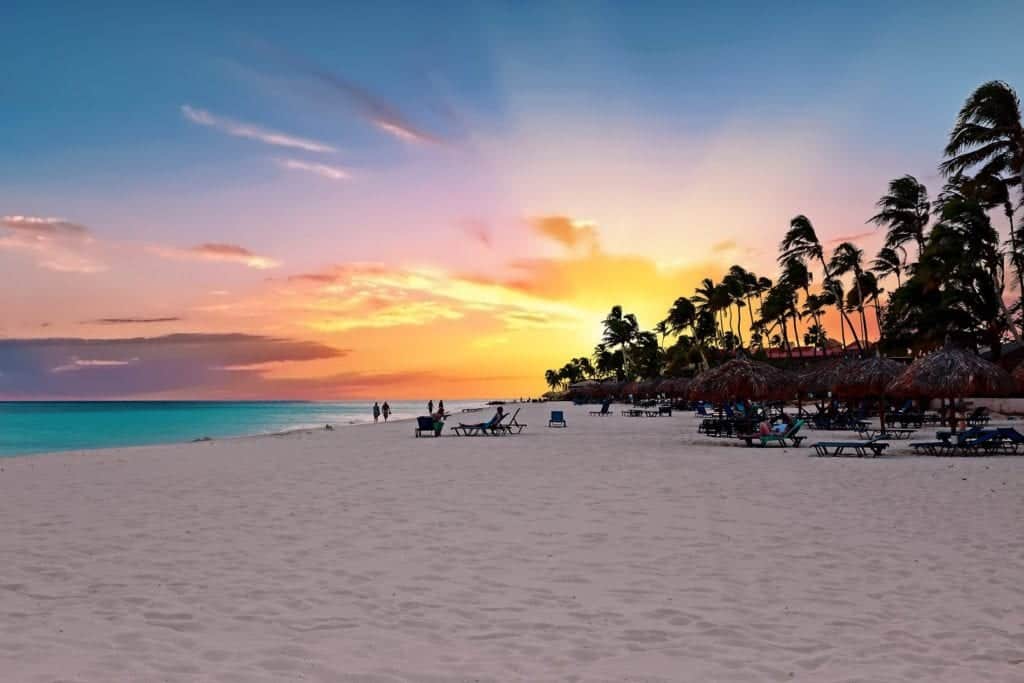 Things You Need to Know About Flights to Aruba
Aruba is a popular vacation spot in the Caribbean and you will find many big airlines serving the area, such as United Airlines, KLM, American Airlines and British Airlines. There are no direct flights from London to Aruba, so you can choose where you want to connect your flights to Aruba, the two main connections being Amsterdam and Newark Liberty.
Most connections are short, between one or two hours, but you can choose to stay in a destination overnight or for a few days so you get two holidays for the price of one. During your connection you can enjoy another city, then jump on the plane which is going to take you to Aruba.
UK citizens can enjoy up to 3 months in Aruba without a Visa, which is another advantage of this amazing island. You just need to make sure your passport is valid, having at least 6 months remaining validly and has room for an immigration stamp.
Once you get to Aruba you can easily find a taxi or a shuttle to transport you to your hotel or we can book a transfer for you so you avoid all the queues.  Private transfers and taxi transfers are the most popular way to get from the arrivals halls to your hotel or villa. Car rentals are available but aren't as common as in other Caribbean destinations – remember that driving is on the left-hand side of the road.
Best Time to Visit Arbua
The best time to visit Aruba is between April and August, when the weather is warm and rain free and the hotel room prices are affordable. During this time there is no risk of facing a tropical storm, thanks to the island's location.
Between September and December you will find amazing discounts and holiday deals in Aruba, but you might have to cope with some rainfall.
If you plan your holiday to Aruba somewhere between January and March, when the temperature is around 30 degrees (celcius), you need to book your flights and hotel rooms well in advance to avoid the huge prices, as this is the peak of the season. The good news is you can book your flights well in advance by paying a deposit of £50 then pay the balance off in instalments, or later – as long as the balance is paid in full 8 weeks before travel.  If you would like to pay with a deposit please give us a call on 0207 254 0136 as you can't do this online.
Booking Flights to Aruba
You can use the search bar below if you have specific dates in mind.  If you want to find the best deal on Aruba flights then click the button below to see the calendar with prices so you can identify the best time to fly. If you want to save more money on flights to Aruba (or any other destination) just register for the the SN Travel Club to get a reduced price online.  A part of the SN Travel Club you will receive a weekly email with deals, competitions or travel inspiration.  If you are planning a holiday to Aruba give us a call on 0207 254 0136 or send us an email as we can arrange everything for you – and get you a great price.
Get members only pricing!