Get A Great Deal On Flights To Trinidad
Trinidad bursts with colour and life during the annual Carnival celebrations. As if to say "move over Rio", the whole island becomes a hubbub of neon feather plumes and shaking bodies, sloshing rum cocktails and bouncing samba-electronica. When the blowouts of Lent finally recede, a place of stunning beauty is left to saunter along to chilled Latin vibes for another year.
Come then if you're the sort who likes to seek out resplendent hummingbirds in old-growth rainforests, hike to lonely waterfalls and emerald lagoons in the woods, or find empty arcs of yellow-beige sand that are perfect for swinging afternoons away in a hammock. Countless flights to Trinidad are on the menu to transport you across to this more off-the-beaten-track isle of the Caribbean this year…
[calendar dest='POS' occ='1:0:0:0′]
Fast Facts About Trinidad
Language:

Time Difference:

Trinidad is 5 hours behind UK time

Currency:

Trinidad and Tobago Dollar

Flight Duration:

Capital:

Visa:

British passport holders to not require a visa to visit Tobago

Weather:

Tobago's climate is at a fairly steady 27 degrees celsius. Tobago misses the hurricane belt but does tend to get wetter weather from June to December but this is when hotels are cheaper.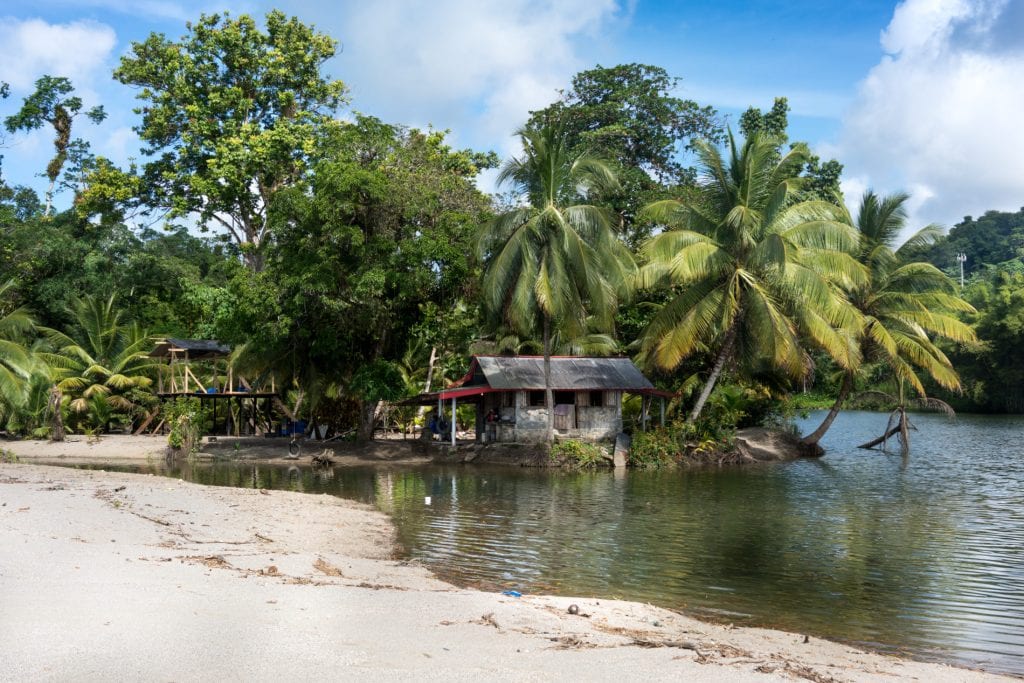 Things You Need to Know About Flights to Trinidad
It's not common to find non-stop links from the UK to Trinidad, but there are also oodles of indirect connections to pick from. They typically involve a stop in another Caribbean destination like St Lucia or Antigua but could also mean going via a large North American hub like Miami or New York. That's because there's a whole host of different airlines in the offing, ranging from the likes of UK flag-carrier British Airways to transatlantic specialist Virgin Atlantic. Travel times are usually in the region of 10.5 or 11 hours each way.
The main airport in Trinidad is the Piarco International Airport in Port of Spain. It serves just under 2 million passengers annually and is conveniently located just to the west of the island's capital. From there, you should find it easy to bag a car rental to take you to the coast, or a taxi transfer to any of the main resort towns. Travellers with a UK passport won't need a visa as period of 90 days visa-free access is granted on arrival.
Best Time to Visit Trinidad
You can usually find Trinidad soaked in sun and steamy temperatures in the high 20s just when the British winter is bringing rain and chills across the UK. So, if you're looking to trade a potential white Christmas for a white-sand-beach Christmas, flights to Trinidad in December could just be the perfect pick. If you're not the sort to share your sand space with other sun seekers, it might be better to consider coming once the early spring Carnival has finished. Thankfully, the weather stays pretty good until August time.
Luxury all-inclusive 5 star resort with flights included. On-site golf, scuba diving, water sports …
How to Find Cheap Flights to Trinidad
You can usually bulk up the travel budget for those shindigs in Carnival or beachside villas around Grand Riviere by choosing to hop on a flight to Trinidad in the summer months like May, June and July. If you are planning going to Trinidad carnival flights do get booked up so book well in advance. If you're keen to get everything sorted in one booking, you could also save plenty by letting SN Travel take care of your Trinidad flights and hotels, while securing your airfares in advance is always a sure way to keep costs on the down low.
What to See and Do in Trinidad
Carnival – Four days before Lent, the Trinidad and Tobago Carnival rocks the whole island nation. It brings rollicking parades of feather-clad dancers and flamboyant floats to the streets. Get ready to guzzle some rum punch!
Asa Wright Nature Centre – This one's a veritable mecca for bird watchers. Surrounded by lush jungles, it's home to a whopping 159 different species of tropical flier, from turquoise-coloured honeycreepers to buzzing hummingbirds.
The north coast – Most beach lovers will head to the stunning north shore of Trinidad. It's dressed in rugged arches, peppered with mangroves, and dotted with azure lagoons that glow green and blue.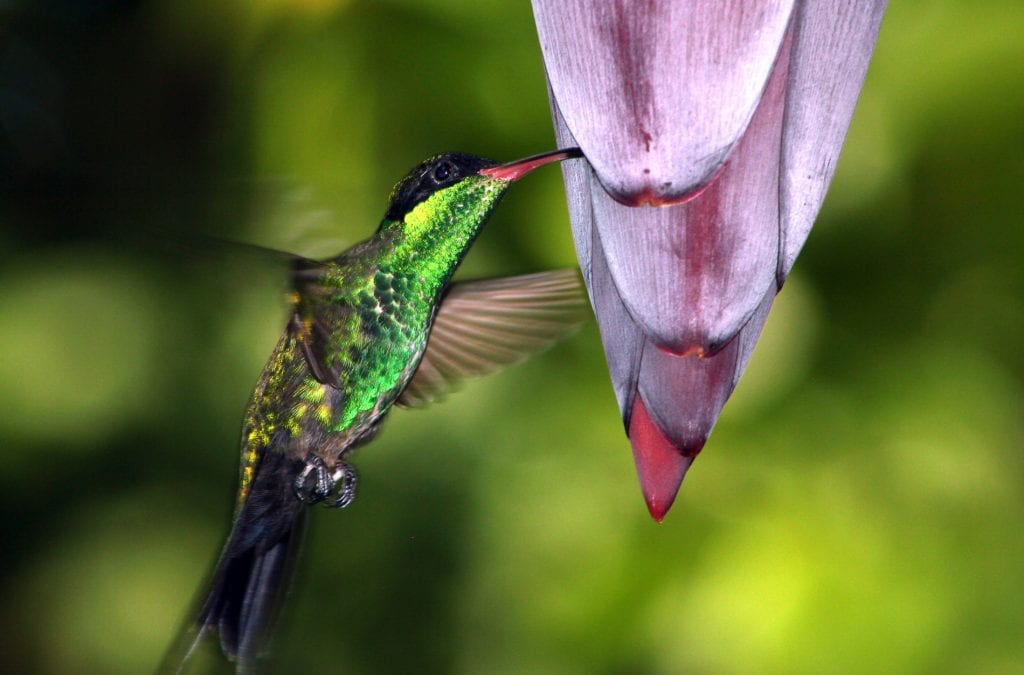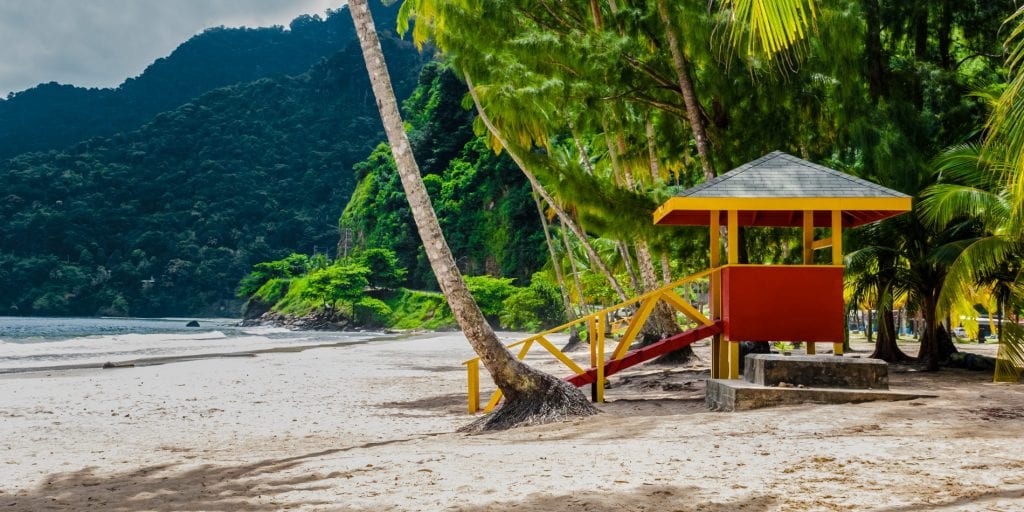 Booking Flights to Trinidad
You can book your flights to Trinidad on our website and stay in Trinidad for a bit and then head over to Tobago on the ferry. Use the calendar to see when the cheapest flights are for your chosen time of year. If you want to reduce the cost of your flights you can register for the SN Travel Club to get a reduced cost whenever you are logged in. As part of the SN Travel Club you will receive a weekly email with deals, competitions or travel inspiration. If you are planning a holiday to Trinidad give us a call on 0207 254 0136 or send us an email as we can arrange everything for you – and get you a great price.
Get members only pricing!