What You Can Expect On A Holiday To St Kitts & Nevis
The best thing about a holiday to St Kitts & Nevis is that you get two holidays for the price of one!  St Kitts & Nevis is one of the smallest nations in the world, the dual island paradise oozes charm and natural splendour and is situated just west of Antigua and Barbuda. Images of cloud covered mountains, beautiful unspoilt beaches, former sugar plantations and verdant green rainforests describe these beautiful islands perfectly. A holiday to St Kitts & Nevis will whisk you away to the Caribbean of the past, with its sleepy villages and historic houses dotted throughout the rolling sugar cane plantations.
The only Park Hyatt resort in the entire Caribbean, the simply stunning Park Hyatt St Kitts provide…
What To See And Do On Your St Kitts & Nevis Holiday
The larger of the islands, St Kitts & Nevis is home to the dormant Mount Liamuiga volcano and the lush green rainforest, which is home to the green vervet monkeys. Visit the UNESCO World Heritage Site that is the Brimstone Hill Fortress and National park or take a ride on the narrow-gauge railway that is the St Kitts Scenic Railway. The island does have a livelier side for those looking for beach and bar life with the vibrant area of Frigate Bay playing host to various hotels, bars and restaurants.
Just next door to St Kitts and dominated by the beautiful sun hat shaped Nevis Peak, the tiny island of Nevis offers pristine, sugary white beaches and beautiful landscapes. Known as the "Queen of the Caribees", Nevis is a sleepy retreat and slightly more laid back than its larger sibling. Visit the amazing Nevis Botanical Gardens or partake of afternoon tea at one of the island's plantation style hotels. Covering just 36 square miles, it's easy to see most of this intensely green Caribbean island. That's if you can drag yourself away from one of its spectacularly beautiful beaches that is!
Fast Facts About St Kitts & Nevis
Language:

Time Difference:

St Kitts & Nevis are 5 hours behind the UK

Currency:

Flight Time:

Capital:

Visa Required:

British passport holders do not require a visa to travel to St Kitts & Nevis

Weather:

Temperatures range between the high 20's in the winter and the low 30's during the summer. The official hurricane season runs from June to November.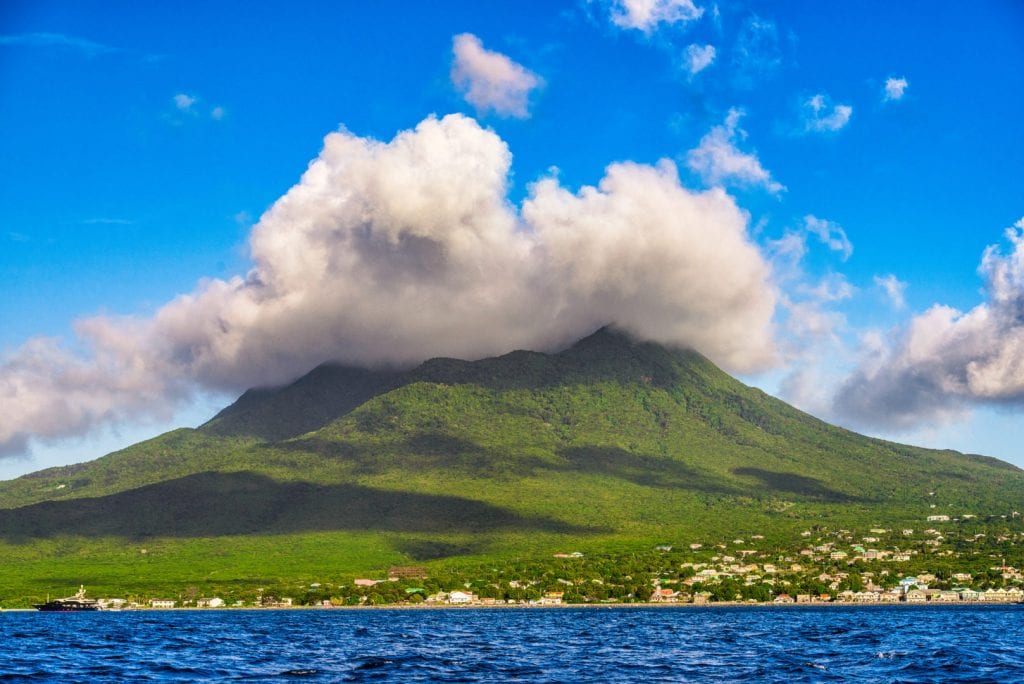 Where to Stay in St Kitts & Nevis
St Kitts & Nevis are separated by just a small channel of water, most people who visit split their stay between the two islands.  On St Kitts, Basseterre, the capital, is where the cruise ships dock and all the hustle and bustle is. South of Braasseterre are where the  islands best beaches are Cockellshell Bay is probably the best beach on the island.  If you prefer a quieter place to stay head ovber to Nevis.
Booking Your Holiday to St Kitts & Nevis
Finding and booking a holiday can be stressful – so leave it to us! Simply tell us your preferences and we will find the best value flights and accommodation for you.  SN Travel can plan your holiday to St Kitts & Nevis including return flights, accommodation, transfers and even airport parking. We have a wide range of St Kitts hotels to suit your individual requirements. In addition, we can arrange airport parking, transfers, lounge passes and even car hire.
Other Destinations You Might Like
With so many islands in the Caribbean it can be difficult to choose where to go – if you need any advice just ask!  We are a Caribbean specialist travel agency so we can help you decide which island would best suit your holiday style.  You can also check out our travel blog if you need some inspiration.
Get members only pricing!