Antigua is one of our best-selling destinations; this tropical paradise of offers 365 captivating beaches, many amazing events and a wide range of things to do. Sunny all year round, with pristine beaches and clear waters; a holiday to Antigua is just what you need to relax. Relaxing days at the beach are not all Antigua has to offer; this gorgeous island has a lively culture, rich history and wild jungle. The perfect place to mix relaxation with adventure!  Our Antigua travel guide should tell you everything you need to know about this Caribbean gem…

Language:

English and Antiguan Creole

Time Difference:

Antigua is 5 hours behind the UK

Currency:

Flight Time:

Capital:

Visa Required:

British Passport holders don't need a visa to visit Antigua. Your passport should be valid for a minimum period of 6 months from the date of entry into Antigua.

Weather:

Temperatures range from the high 20's in winter and low 30's in summer. The rainy season runs from July to November. Hurricane season runs from June until November.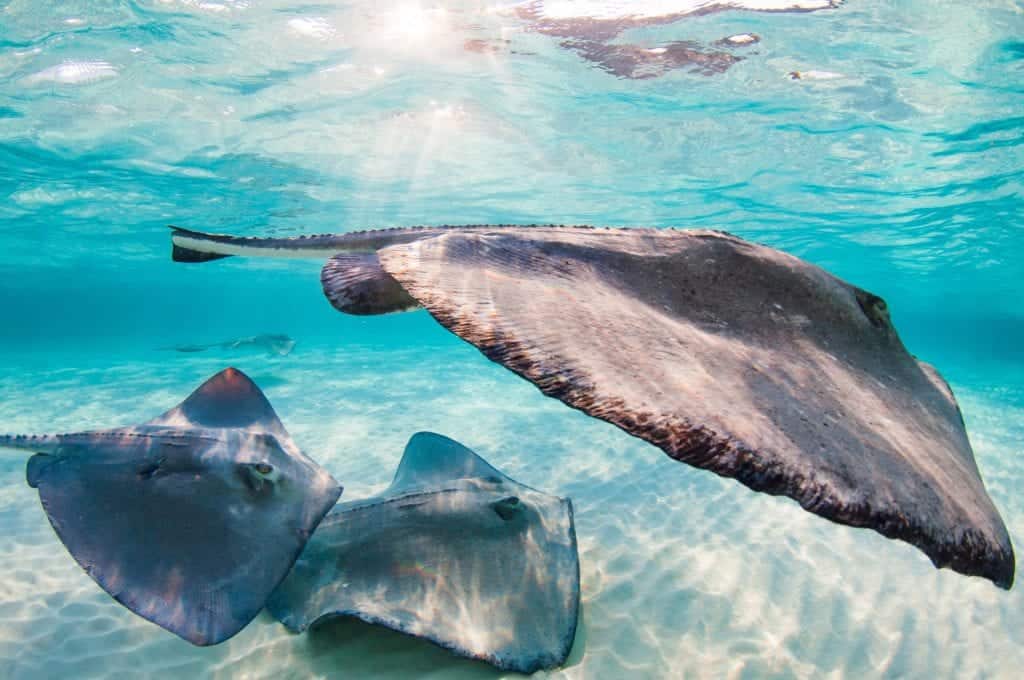 Antigua's Attractions
Undoubtedly, Antigua's fame is due to its beaches, which offer a perfect spot for working on your tan. There are many public beaches, some easier to access than others. Jolly Bay is one of the popular options. Located on the Eastern side of the island, the bay has plenty of hotels, as well as soft, white sand and crystal clear waters. Half Moon Bay is one of the most sheltered beaches in Antigua, which makes it perfect for snorkelling or families with kids. Falmouth Bay is where you can enjoy the nightlife and admire the yachts which bring in the party people.
If you want more adventure in your holiday, you can stop by a casino in the capital St. John's. The city also has plenty of shops and museums. History lovers need to stop by Betty's Hope, the remaining sugar cane plantation. The colonial past can also be seen at English Harbor, one of the island's natural harbours. Here you can also visit Nelson's Dockyard, another popular historic site – there are also many perfect spots to have lunch here.  Don't miss snorkelling with stingrays!
Nightlife in Antigua
Antigua might not be known for its thriving nightlife, but when you want to have fun there are plenty of options. For a fun day out check out the D-Boat experience which used to be an oil tanker but it's been transformed into a one stop party complete with water slides, trampolines, a bar and restaurant and promises a fun filled experience for all. If you are looking for some bars in Antigua the Evening Standard lists some good options here.  But when you really want to dance and have fun like never before, you need to attend the Antigua carnival….

Antigua Carnival
Held each year between the end of July to the first Tuesday of August, Antigua carnival is when the whole country really comes alive!  Incredible costumes, the sound of calypso and soca music and electric vibes will have you smiling and dancing in no time. The good news is everyone can participate and have a good time – either as a viewer or dressed up in a costume with one of the carnival parades.  Wearing a carnival costume is called playing Mas and anyone can do it, you just need to arrange for your costume to be made beforehand so you can collect it when you arrive (get a discount on Mas/Costumes, party tickets and sight seeing in Antigua.)  The carnival consists of many floats, each with their own troop which is called a Mas Band. No matter what shape or size you are, just put your carnival costume on and enjoy!
Antigua Carnival is the local's way to celebrate the abolition of slavery. The most important day of the festival is the Jouvert, when steel bands perform. Cocktails fuel the fun atmosphere and everyone is dancing for the entire day, just having a good time.  Another important moment of the Carnival is the costume parade, when you can see the brightest, most beautiful outfits. Many locals save the entire year to be able to afford an extravagant costume, so you will have a hard time deciding which costume is the most beautiful. The entire event has a relaxed vibe, as locals and tourists join to party together. If you want to really taste Antigua, you need to visit the island during the Carnival, so you can experience the contagious fun of the locals.  If you are planning on visiting during carnival read our Antigua carnival planning and safety article.

When To Go
You can go to Antigua any time of year but there is 'hurricane season' which runs from June – October but really its just September that is prone to storms.  June is a great time to holiday in Antigua as there are no crowds and the hotel prices drop considerably – it's still hot.  End of July until the start of August is Antigua carnival which is a popular time for people all over the world to visit.  September can be windy, stormy and have more rain.  The peak season for Antigua (and most of the other Caribbean islands) is from December until May.  Antigua's temperature is generally a toasty 26-30 degrees Celsius.
Spending Money
Hotels will likely be the biggest expense of your trip – and as with all smaller islands the price of goods can be a little increased compared to bigger destinations or the mainland.  2 Hours snorkelling with stingrays will cost round £40, a full day drip might be closer to £90 per person.  Entry into the historic attraction Nelson's Dockyard is around £6. Getting around is cheap; you can get a local bus for around £1, taxis are very affordable – a taxi from one side of the island to the other should cost about £10.  Alcohol is affordable; a supermarket beer is about £1.50, a bottle of decent enough wine might be around £8 and you can get a large bottle of rum from £5, bargain!  Restaurants will vary greatly as there are some very high-end hotels on the island, you might expect to pay about £8 for cheap eats and up to £40 for a 3-course meal with wine (per person).

Hotels in Antigua
Antigua isn't a huge island so you can stay pretty much anywhere, the hotels are generally all on the coast.  We prefer to stay in the south as the sand feels nicer!  English Harbor is also very nice – its close to lots of restaurants and bars and the area is rich with history so very picturesque.  Antigua hotels can be pricey, depending on what time of year you visit; there are some gorgeous luxury hotels if you have the budget – they provide practically everything you need from meals and free bicycle usage to entertainment and complementary watersports.  We recently visited many hotels, read about the best all-inclusive hotels in Antigua.  We just had a look at prices for hotels in May, which is still peak season and this is what you might expect to pay per person, per night….
Budget Hotels from £37
4 Star hotels from £44
All inclusive hotels from £73
5 Star all inclusive hotels from £138
Obviously prices will change as we often get hotel sales, and peak seasons like Christmas are highly likely to increase but at least you can get a gist!

How Much is a Holiday To Antigua
That totally depends on who you ask 😉 Usually you can expect to pay around £450 for flights, with accommodation you might expect to pay £850 ish for a budget option and £1200 for something more luxurious.  Prices will vary according to when you book and when you travel so subscribe to our newsletters to get notifications of sales!
Need More Info About Antigua?
The Caribbean is our forte so feel free to ask us anything!  We have been sending people to the Caribbean for 45 years and were one of the pioneers in Caribbean leisure flights (check out our history, its actually very interesting!)  You can call us, visit us, email us or message us on Facebook.