Cruise holidays are perfect for couples holidays as you can get to see many destinations in one holiday without have to unpack or stress moving from place to place.  What's more there are opportunities for getting all dressed up and spending some quality time together.  Here is why a cruise holiday should be your next romantic break away….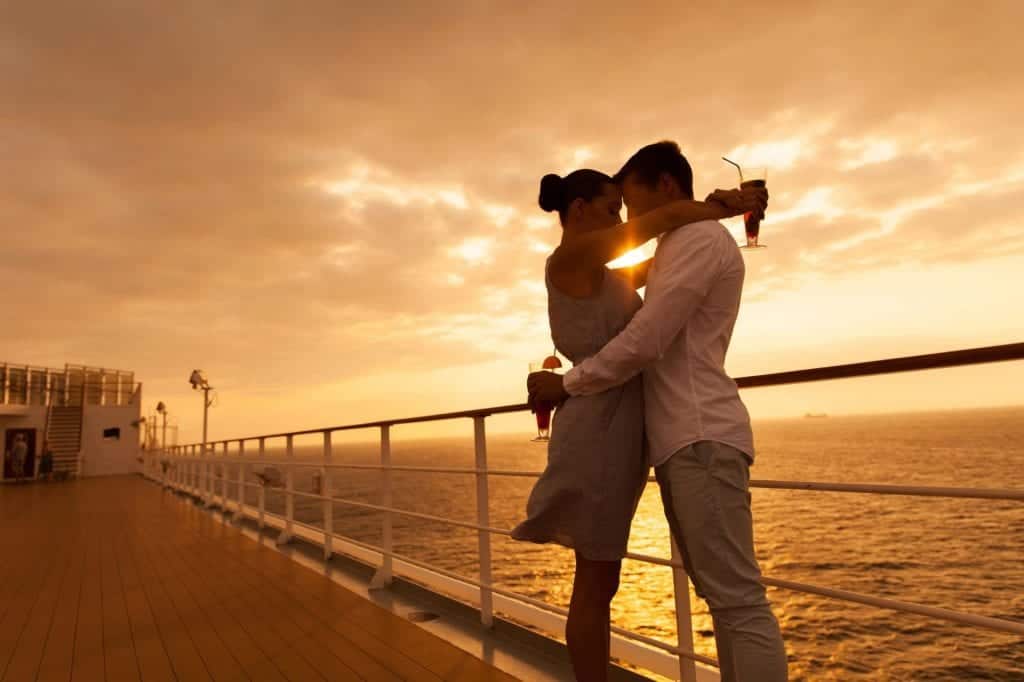 Luxury Accommodation
Forget any notions of cramped cabin space, cruise cabins offer the ultimate in luxury and the higher you upgrade the more spacious and well- equipped they become. Choose a balcony cabin and sip cocktails together under the starry skies from your very own private outdoor area or opt for a suite and enjoy extra space and a wealth of added facilities and amenities. It's a special holiday, right?
Spa Treatments
There's nothing quite like a relaxing Spa treatment to ignite those feeling of romance and what better than a fabulous treatment for two? Cruise ship spas offer all kinds of wonderful packages for couples so grab your partner and indulge in a couple's massage for two.
Fine Dining
Celebrate your love over a romantic meal for two. Cruise ships are renowned for their fine dining settings, where formal wear is required and there are plenty of tables for two. Take a seat, order a glass of champagne and tuck into a sumptuous meal with your loved one. Fancy some privacy? Order room service to your cabin or request a private meal for two on the deck where the twinkling starry sky and the sound of the waves only enhance that special moment.

Romantic Destinations
Discover cities of romance, dreamlike beaches, places that ooze history and culture and locations filled with adventure. Everyone's idea of romance is different. Caribbean cruises guarantee romance at every turn with picture perfect beaches, colourful cultures, vibrant cities and heaps of adventure.
Learn to Dance
Cruises have a full range of activities planned through out the day and evening, dance lessons are usually pretty regular. Learn to waltz, foxtrot and ballroom dance together. Its the perfect way to spend a few hours together.
Captains Ball
On most sailings there will be a Captains ball or some kind of gala dinner where everyone gets dressed up to the nines, has dinner and the dances the night away – this is where those waltzing lessons will really pay off!
Stargaze on Deck
By night you can go up on deck, lay on a sunbed and watch the stars.  Don't forget to take a glass of champagne with you!
Find Out More About Cruise Holidays
Cruise holidays give you plenty to do (if you want), superb service, impressive cuisine and you get to visit many destinations. They are very economical too!  We can find and book a cruise that is perfect for you, just ask! Find out more about cruise holidays…