Where is the Cheapest Place to get Married in the World?
Do you dream of warm golden sand between your toes? A cliff-top breeze? Or a magnificent country manor? When wedding bells are ringing in your future, where you choose to get married can make all the difference to your day and your bank account.  A tropical wedding might seem way beyond your price range, but we've crunched the numbers and found that getting married in a tropical climate could be more affordable than you think. Using a variety of sources, we have calculated the cost of a wedding in some of the most popular wedding destinations around the world. From flowers to photographers and the all-important venue, we have analysed the cost of all of the finer details which quickly begin to mount up when you start planning a wedding.
The Most Expensive Place to get Married in the World
We've compared the costs of a wedding around the world and can reveal that the most expensive country to get married in is France. With an average all-inclusive cost of £26,059, a wedding in France is pricier than the UK and almost twice as expensive as the cheapest destination wedding on our list.  Whilst getting married in a French chateau might be the dream, it could soon become a nightmare if you are planning a wedding on a tighter budget.  Pricey weddings were most common in Europe with Italy, the UK, Greece, Spain and Portugal all taking the top spots for the most expensive places to get married at over £19,500.
The Cheapest Place to get Married in the World
The Indian Ocean is often perceived as an expensive destination. However, our data has revealed that the tropical island of Mauritius is the cheapest country to get married in the world.  Costing an average of £12,492 for the full package, a destination wedding in Mauritius is cheaper than every European wedding destination by over £6,500! A pretty sizable saving and a dreamy location too. 

Tropical islands in the Indian Ocean proved to be the cheapest wedding destinations time and time again with Sri Lanka, Maldives, Zanzibar and Seychelles all coming in at less than £14,000 for the full wedding package.
The Cost of Getting Married in the Caribbean
With its picture-perfect beaches and stunning landscapes, it's no surprise that the Caribbean is one of the most popular places for a destination wedding. According to this research, Antigua is the cheapest Caribbean island to get married abroad costing just £4120 excluding the cost of extras like the wedding dress and rings, making it 69% cheaper than getting married in the UK.

Saint Lucia comes in a close second place with the cost of a wedding at £5664, followed closely by Dominican Republic, where a comparable wedding will likely cost £5740.

Venues in the Caribbean are considerably lower (in actual fact many are free if staying at a resort but we haven't included this as we wanted to compare like for like data). London venue hire costs an average of £5,564, whereas the most expensive destination in the Caribbean is Jamaica, which is priced at £1,417.

Changing Caribbean islands can push venue hire down dramatically, with the Dominican Republic priced at £690 and Barbados priced at £704. This represents a possible saving of over 87%. Take a look at our Caribbean wedding infographic.

The Cost of Wedding Venues
Finding the right venue is one of the most important aspects of wedding planning. Of course, you want everything to be perfect – but perfection can often come with a price. It's probably no surprise that hiring out an entire country villa for the day is more expensive than getting married on a beach. But it may surprise you to learn that it can be more than ten times as expensive.
The Cheapest Country to Hire a Venue
Once again, Mauritius had the cheapest wedding venues at an average price of just £511! This was accompanied by other tropical destinations including the Dominican Republic, Barbados, Mexico and the Maldives, which all came in at less than £750. These findings suggest that it really does not cost a lot to get married with the sand between your toes.

The Most Expensive Country to Hire a Venue
On the opposite end of the spectrum, Europe proved to be the most expensive place to hire a wedding venue. Our data revealed that France is the most expensive country in the world to hire a wedding venue, costing an average of £9398. This was almost £3000 more than other expensive European destinations including Italy, the UK, Greece and Spain, which were all more than £5000. If you are planning a wedding abroad and your mind first drifts towards Mediterranean coastlines, perhaps these findings may encourage you to look further afield.
Other Costs to Expect
When you have decided on your destination and selected a venue, there are still the finer details to consider taking your wedding day to the next level. If you book your wedding abroad with SN Travel, lots of the finer details are often included in the price, as well as huge discounts. However, if you want to source independent suppliers, we have priced the cost of a photographer, videographer, DJ or band, florist and officiant, as well as a hair and makeup artist.  When combining the cost of the finer details, it came as no surprise that European destinations had the priciest suppliers, with Italy being the most expensive country at an average of £8831. This was followed by the UK, Greece, and France. These countries all had a combined total of over £6000, per destination, for sourcing independent suppliers.  In comparison, sourcing individual suppliers came to a total of £2074 in Sri Lanka, which is less than a quarter of the cost of suppliers in Italy. Mauritius, Zanzibar, Maldives and Kenya were amongst the cheapest destinations, all costing less than £3500 for individual suppliers.
How Much Can You Save by Getting Married Abroad?
We are pleasantly surprised that a tropical wedding is considerably cheaper than getting married in Europe and, more specifically, the UK. You can save up to a staggering £13,500 by getting married abroad. Not to mention you also get the best backdrop for wedding photos!  If you were to get married abroad with SN Travel, the cost of the venue, flowers and cake will generally already be included (see what we mean in these example destination wedding packages). Therefore, the price for weddings in the Caribbean, Indian Ocean and other long-haul destinations will be considerably less than this data suggests, with wedding packages including accommodation and flights for the bride and groom from around £4000 (this is based on a Caribbean destination).

Get The Full Report
You can view the full PDF report which goes into much more depth, details the cost of a wedding in different parts of the UK and includes stats and facts on the cost of a wedding around the world.
About SN Travel
SN Travel are a London based travel agency with 45 years in business, specialising in the Caribbean and long haul destinations.  We have extensive experience planning family holidays, honeymoons, group holidays and special occasions like weddings abroad for up to 200 people.  Our destination weddings handhold you 100% with a wedding expert in the UK as well as a wedding planner in the destination, all included as part of our service.
Get up to £500 off Your Destination Wedding or Honeymoon!
Get a personal wedding expert as well as a wedding planner in your destination as part of our destination weddings service. We will take care of everything; from private boat trips with your wedding party to champagne in your room. Our tailor-made service will take care of every detail – at the perfect price.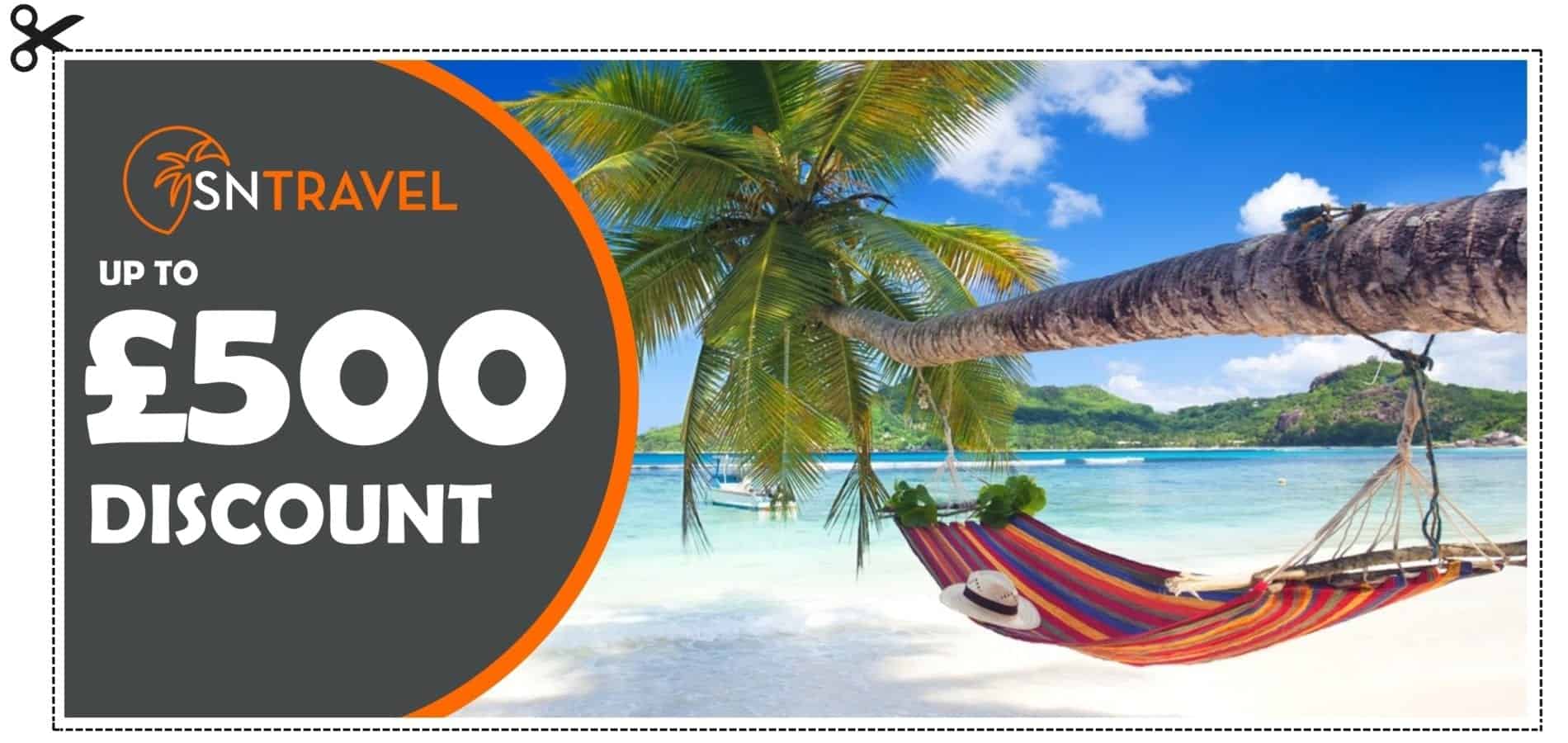 Enquire before 30th November to get up to £500 off.
Voucher is valid on new quotes only and can be used on weddings abroad, honeymoons, holidays and cruises only. Minimum spend applies. Must mention voucher at time of quote.
Methodology
For the purpose of this study, we have calculated the cost of a wedding by sourcing the individual cost for each aspect of the day. We have not considered the cost of wedding packages as we required like for like prices for each aspect of the day. Therefore we could not guarantee each wedding package from destinations around the world would include the same things.  The total cost of a wedding in each country was calculated by sourcing individual quotes in each destination and working out the average.
This research report was in partnership with Virgin Atlantic, findings from this report are sourced by an independent party to keep the results fair. Therefore, the figures don't take into account the discounts SN Travel can obtain with our trusted suppliers.
Of course, we have only covered the cost of the actual wedding day in our data analysis. There will inevitably be other costs associated with your day too. We calculated the average cost of the wedding dress, grooms suit, bridesmaid dresses, groomsmen suits, rings, wedding cake and stationery at £9,500. This would be the same worldwide as you, assumably, would source these items beforehand and take all of them with you to your chosen destination.  Destination weddings obviously come with the added cost of flights and hotels. But, if you are planning on eloping anyway, a tropical destination could still work out much cheaper than a European wedding. And, if you have your wedding and honeymoon in the same place, you don't have the added cost of a honeymoon to think about.



Get members only pricing!