Harrison's Cave: Barbados' amazing hidden underworld cave network
When we think of Barbados, most of us summon up images of white palm fringed beaches lapped by iridescent turquoise waters, rum punches and exclusive hotel resorts.  And whilst that's all completely true, this beautiful Caribbean island is also home to some pretty awe inspiring natural treasures. Dig a little deeper into Barbados and you'll discover something incredible – Harrison's Cave.
Found in the central uplands of the island, Harrison' Cave is actually a network of limestone caves, characterized by stunning crystallised limestone stalagmites, flowing streams and pools of crystal clear waters. In fact, Harrison's Cave is extensive at approx. 2.3km long with its largest cavern known as The Great Hall measuring a whopping 15 metres high. It is also incredibly warm inside with temperatures reaching an average of 27 degrees Celsius. The cave is considered an active cave meaning that its waters still flow, and the stalagmites continue to grow.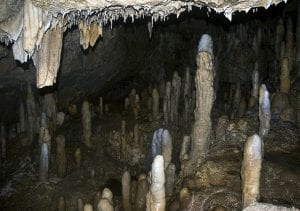 Where did  Harrison's Cave get its name?
Harrison's Cave derived its name from prominent Bajan land owner Thomas Harrison back in the 1700's. It is unclear as to whether Harrison entered the cave as the entrances were very hard to access at that point, however many others certainly tried. It wasn't until the 1970's that Harrison's cave was rediscovered and put on the map by Danish engineer Ole Sorensen and Bajans Tony mason and Allison Thornhill. After extensive work on the cave by the Barbados government which took in excavation of shafts and tunnels, including the Boyce Tunnel named after equipment operator Noel Boyce, Harrison's Cave was finally accessible to the public. It opened in 1981 and has been a major attraction for visitors to the island as well as the locals ever since.
These days there are various ways in which you can enjoy the incredible natural beauty of Harrison's cave. Take a tour of the caves on a tram, where you'll journey through the various passageways with an expert tour guide. For those a little more adventurous, grab your hard hats and head lamps and walk the caves, including some of the smaller harder to reach sections.
Whichever way you choose to see this magnificent feat of nature, one things is for certain – Harrison's Cave is a must see when visiting Barbados. So, hop off your sun lounger for a short while, it'll be well worth it!
Photo credits
Top photo Flickr user andrea_44
Second photo Flickr user Berit Watkin
Third photo Flickr user Loozrboy