Your holiday actually starts from the moment you leave work so why wait until your destination to get into holiday mode -Treat yourself to airport lounge access (from around £20), arrive early, drink all the free champagne, eat all the free meals and cakes and start your holiday as you mean to go on! A long-haul flight gives you plenty of time for some quality chill time, here's how to fly more comfortably…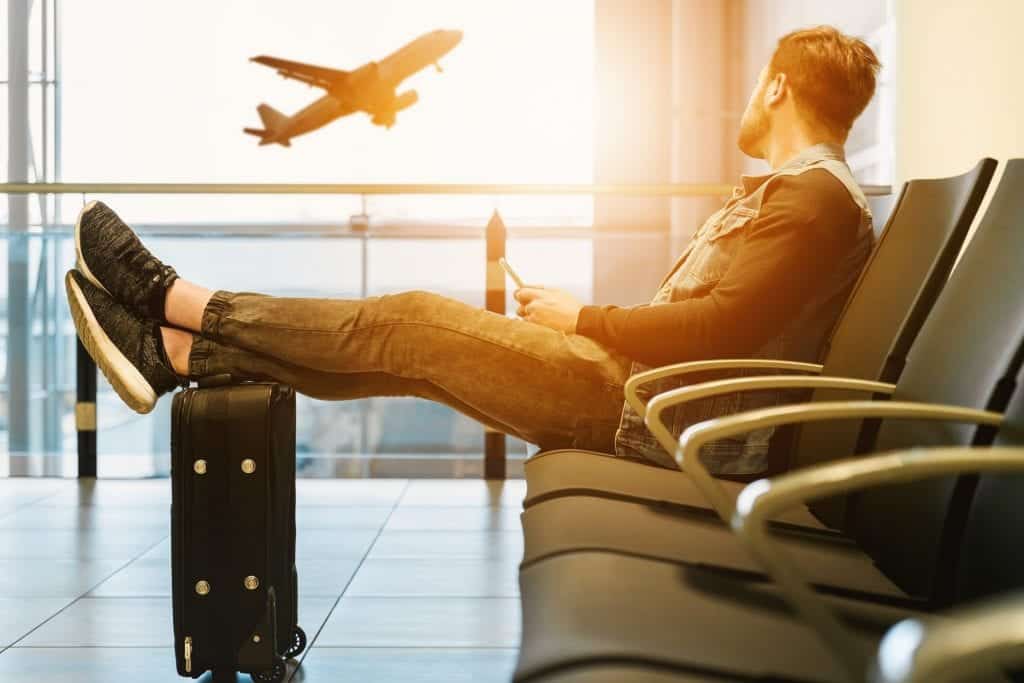 1. Pre-select your seat
If you can, it's best to choose a seat with extra legroom and preferably somewhere near a window or aisle seat. Many airlines have economy upgrades like Virgin Atlantic's Economy Delight which gives you extra leg room, speedy boarding and priority check-in. This means less stress, easier travelling and much more comfort on the plane!

2. Get airport lounge access
These are a great way of feeling like a million pounds before travelling. Depending on which airport and which lounge the prices vary from around £20+ so check what's included as many lounges give you free alcohol, free meals, free snacks and free bottles of water that you can take on to the plane. For lounge haul flights this is great as you can avoid the hectic airport and relax in lush surroundings with waiter service… get to the airport early and make good use of the freebies.

3. Prep yourself
Brush your teeth, comb your hair and wear clothes that aren't too restricting. Elasticated waists and loose-fitting t-shirts are the way forward, here. Wear layers so you are prepared if the plane is too hot or too cold.

4. Get comfortable
Take off your shoes – you can even bring some slippers so you don't have to keep putting your shoes back on to go to the bathroom.  Bring an eye mask and earplugs to help you sleep better.  Sleeping aids like neck pillows really do make a difference.  If you suffer with poor circulation then flight socks might help you feel a bit more relaxed.

5. Pamper yourself
Flights can make your skin feel try so a facial spritz or aromatherapy moisturiser can feel soothing and give you a warm cosy feeling. Something with lavender in will help if you want to sleep.

6. Bring entertainment
The in-flight programme in many airlines is generally pretty good but it's always good to have more options as a back up. Kindles' are great or you can load e-books on to your tablet or phone so you have plenty to read, pre download things on your Netflix app and bring a pack of cards or a travel board game and see just how quickly time flies when you're having fun.

7. Keep moving
Sitting in one position for hours is never a good idea. Every once in a while walk a few laps of the plane to stretch your legs and ensure you don't get swollen ankles – it's not a good beach look!

8. Plan for jet lag
Depending on where you're flying to, you might find that your long-haul flight will leave you pretty jet-lagged. Work a longer shift the day before, keep yourself awake by binge-watching something on Netflix or take a nap before your flight to make your arrival more comfortable. If you try and time your sleep times more in line with the times in the destination you are travelling to it will help you adjust quickly so you feel more spritely when you arrive.

9. Bring snacks and drinks
Just in case it's good to have something you can snack on in case you get peckish. Foods that travel well are nuts, packets of olives, confectionery. There are drinks on board but its handy to have a big bottle of water in case you need it and something with a lid is easier to stow away than the glasses the free drinks come in.

10. Go herbal
If you're a nervous flyer, these can be a lifesaver. From aromatherapy and flight sickness to things to make you more relaxed or sleep easier.

11. Stay hydrated
Pick up plenty of water before the gate to ensure you stay healthy and hydrated during your flight. Just remember to hold back a little toward the end, so you don't need to go to the bathroom during landing!

Upgrade Your Travel Experience – For Less!
It's the little things that make all the difference – upgrade your flight, add an airport lounge pass and have someone waiting to collect you hen you land.  Thinking about your next trip? We'll plan your perfect holiday – at the perfect price.  Take a look at our Virgin Atlantic Holiday Sale for some inspiration on your next destination!