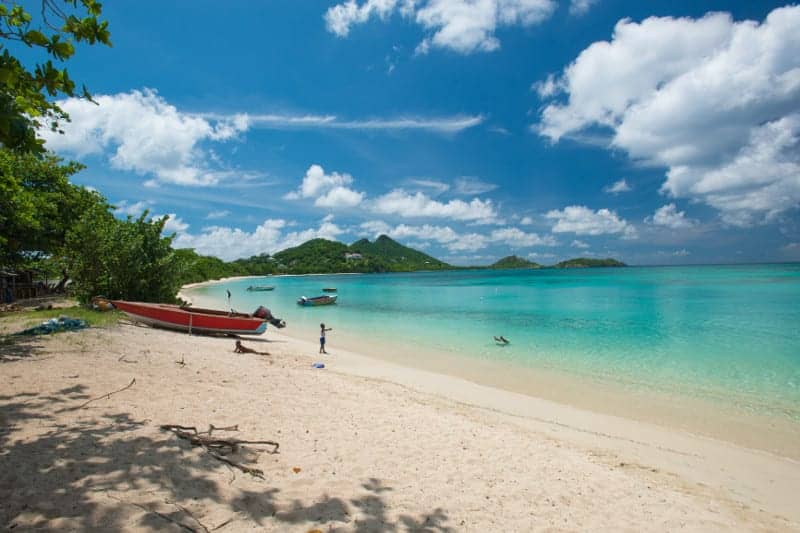 Nestled in between St Lucia and Trinidad, the Caribbean island of Grenada is a perfect holiday destination without the crowds.  Whether you are an adventurous type, are looking for some quality rest and relaxation or you like nature and the great outdoors, then Grenada is perfect for you – here's why Grenada should be on your holiday radar…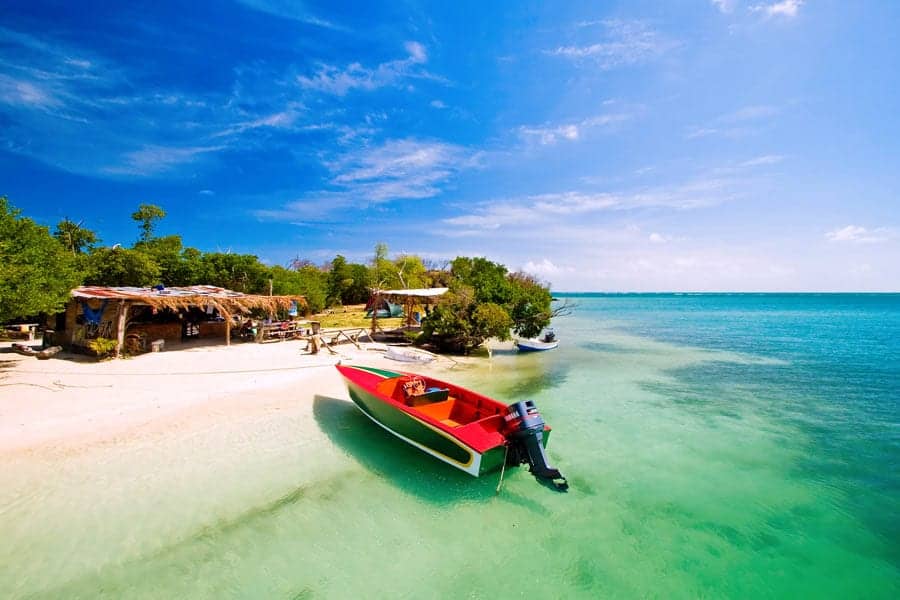 Beautiful beaches
Grenada has many beautiful white sand beaches, whether you prefer having the beach all to yourself, being able to laze on a sunbed with an umbrella or  you prefer beach with plenty of options for yummy food and drinks, Grenada has something for everyone, including a black sand beach!
Two holidays in one
Flights to Grenada touch down in St Lucia where people are let of the plane and then the flight continues to Grenada, so it's very easy to combine your Grenada holiday with a short stay in St Lucia, that way you get the most of both worlds!
Grenada holidays are surprisingly cheap
Even though we specialise in Caribbean travel and have been for 45 years, we are still frequently surprised by the incredible Grenada holiday deals we can find!  We often have Grenada flights for just over £400 and a decent hotel from around £40 per person a night (based on 2 people sharing) which means you can get a 7-night holiday in Grenada from close to £700 per person!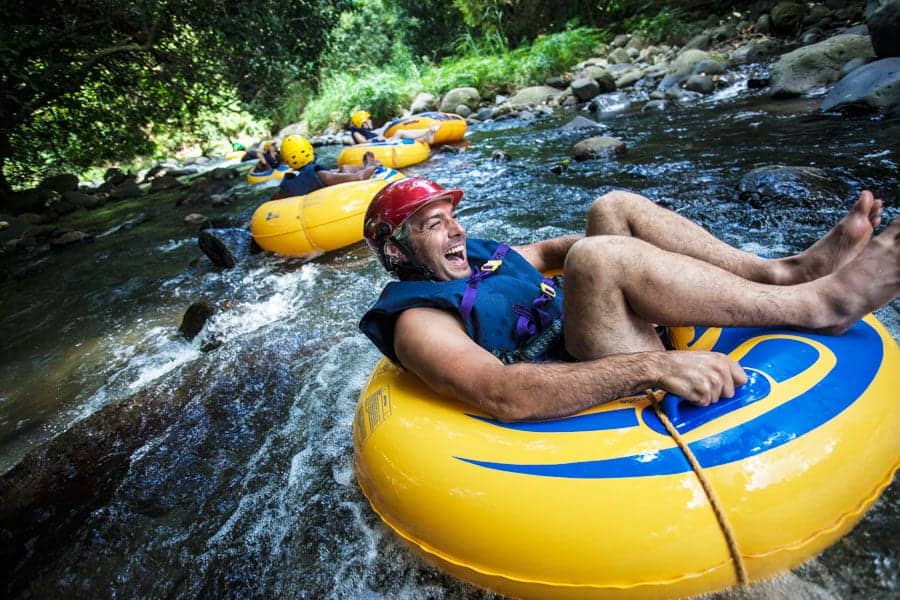 Lots of adventure
Adventure lovers will be in their element with plenty of activities to try including river tubing (sitting in an inflatable rink and sailing down the river with some parts that are rapids), there are several national parks to explore and lots of waterfalls.  Grenada has many hiking trails and it's the greenest island in the Caribbean, so the views are quite breath taking. If hiking isn't your thing, rent a car instead – you can drive around the whole island in 5 hours (not suggesting you do) so you can explore plenty.
No crowds
Grenada is somewhat of a hidden gem, you won't find hordes of tourists here which ensures your Grenada holiday leaves you feeling fully recharged and invigorated
 
Wildlife
Take a boat trip to see Grenada's volcanic coastline from the sea and you might experience humpback or sperm whales and orcas (killer whales).  On land you're likely to see humming birds, mongoose, iguanas and Opossum (looks like a possum).  Snorkellers and divers can see plenty of marine life and several species of Turtles. If you venture into the rainforest then you are almost guaranteed to see Mona Monkeys and if you visit Carriacou Island (more on this below) then you are likely to see the Red Legged Tortoise.

A world underwater
Whether you are a snorkeller or into diving then there is a world under water to explore on your Grenada holiday.  With a wealth of marine life including sting rays, eagle rays and even manta rays, angel fish, groupers and sea horses to name a few. Grenada also has an underwater sculpture park and a shipwreck to explore, the largest of which being Bianca C.  If you want out of this world snorkelling, then get the ferry over to Carriacou island for impressive coral reefs and Sandy Island which is a Marine park so pretty much untouched.
Grenada Carnival
Grenada really comes alive for Spicemas, the destination's premier cultural event which takes place in August each year.  Expect incredible costumes, Soca music, dancing and parties.
 
Chocolate Galore
As well as being known as 'the spice isle' Grenada is a producer of organic chocolate.  You can visit the Belmont Estate and go on a Cocoa tour – it's very interesting to see just how chocolate is made – plus there are chocolate tastings! If you are a serious chocolate lover try to schedule your Grenada holiday for May when the annual Chocolate Festival is on.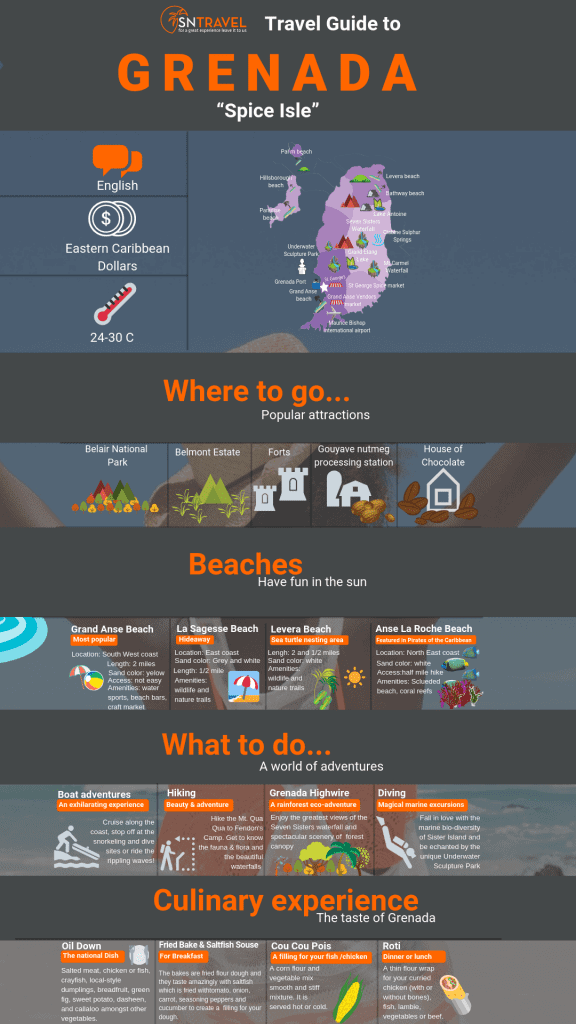 Did Grenada get your attention?
We can find and book your whole holiday – for the perfect price!   From flights and hotels to tours and airport parking, leave everything to us.  We have specialised in Caribbean holidays for 45 years so we get amazing deals, know the best places and use trusted providers to make sure you have a holiday to remember!