From boiling lakes and scenic gorges to river tubing and rainforest hiking, the lesser discovered, unspoiled island of Dominica has an incredible amount of natural wonders to explore so it's perfect for adventure travellers and nature lovers!  It's a volcanic island that is covered in rainforest, towering mountains and captivating waterfalls.  Here are ten reasons why a Dominica holiday should be next on your adventure travel bucket list…

Swim with Whales

Experience a magical moment snorkelling with Sperm Whales (in the wild of course!) The sheer size of these beautiful creatures is extraordinary, and this is an experience you will never forget.  There are strict rules about swimming with the whales to ensure that they are protected.

River Tubing
Whirl down some of Dominica's magnificent rivers in a rubber ring and try and not fall out as you sail across moderate rapids. This isn't very extreme, but it is definitely a fun day out and a different way to see this little gem of an island.

Boiling Lake
Boiling Lake in Dominica is the second largest boiling lake in the world (about 200 feet across) – it's a 3 to 4 hour hike there (one way!)  On the way you will have plenty of opportunity to spot wildlife like Sisserou (Dominica's national bird) or Jaco Parrots.  The landscape is scattered with steam vents and hot spring pools that you can soak in.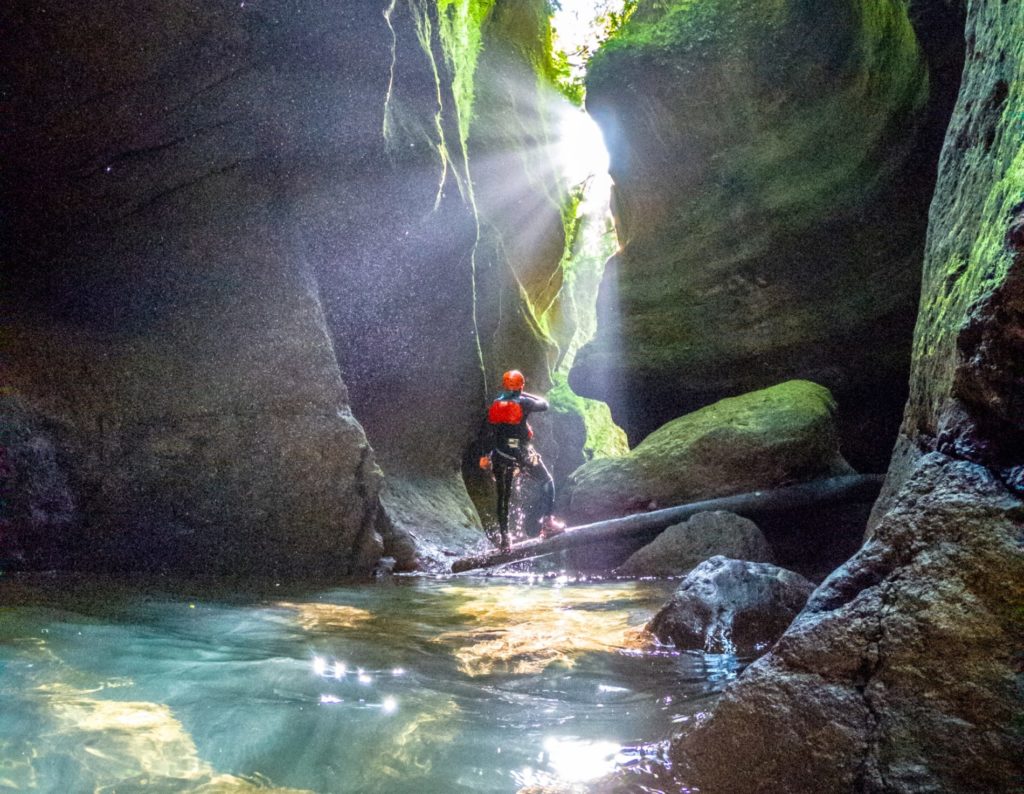 Ti Tou Gorge
With steep water eroded walls and crystal-clear blue pools, Ti Tou Gorge is a photogenic experience that is very close to the Boiling Lakes.  Adrenaline junkies can do canyoning here; rappel down waterfalls and jump from tall rocks into the lush blue pools below.  Night canyoning is also an option!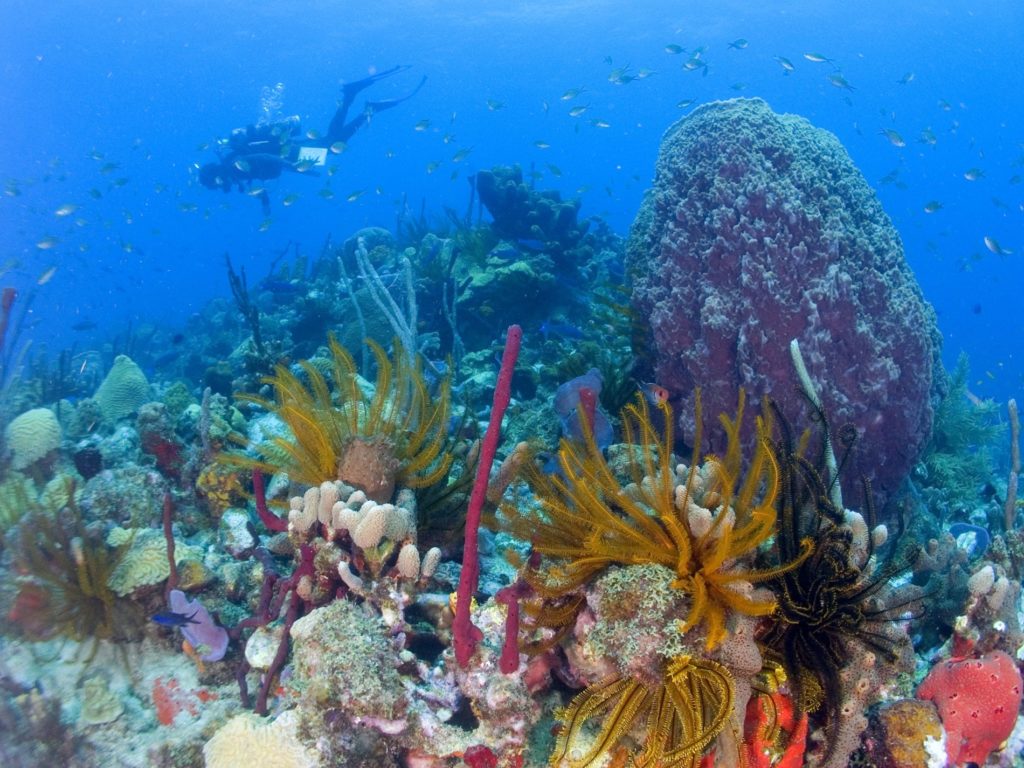 Snorkelling and Diving
Visit Champagne Reef, named for its warm bubbling volcanic waters, which is teeming with marine life. Experience an explosion of colour from corals and fish and get to see octopus, rays and turtles up close. Divers will love the 17th Century Spanish Shipwreck.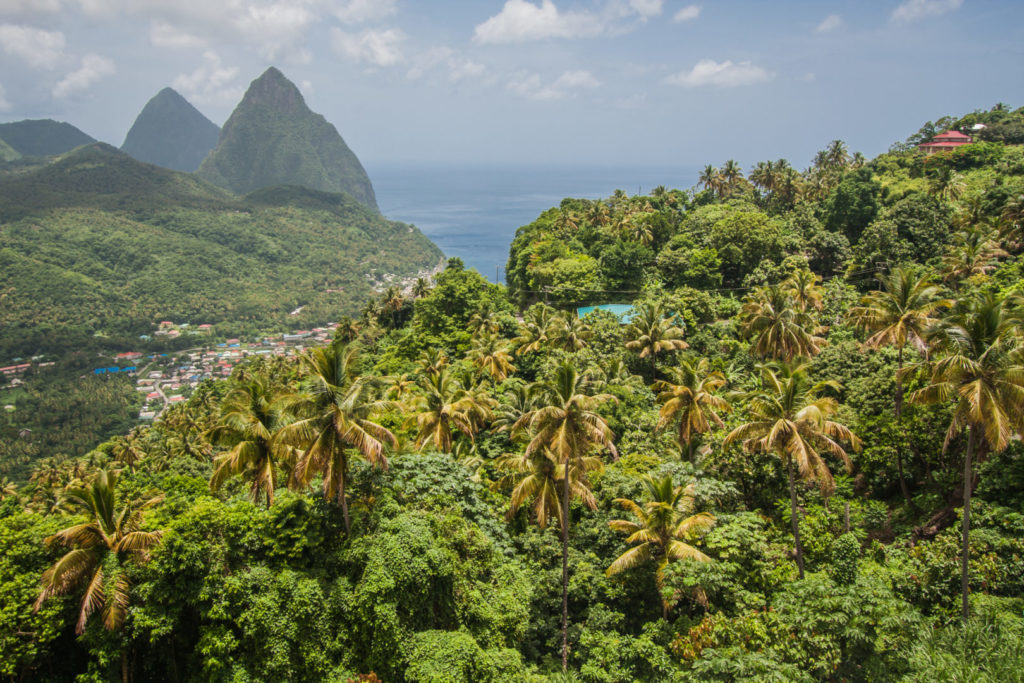 Zip lining across the jungle in St Lucia
Island Hopping
Dominica is perfect for island hopping so you can see more of the Caribbean on your trip. Often people think of the Caribbean islands as all quite similar but that's not the case at all, many are actually very diverse. It's possible to get a ferry to French island of Guadeloupe which has beautiful beaches, Martinique where you can hike an active volcano and St Lucia which has jaw-dropping landscapes and mud baths.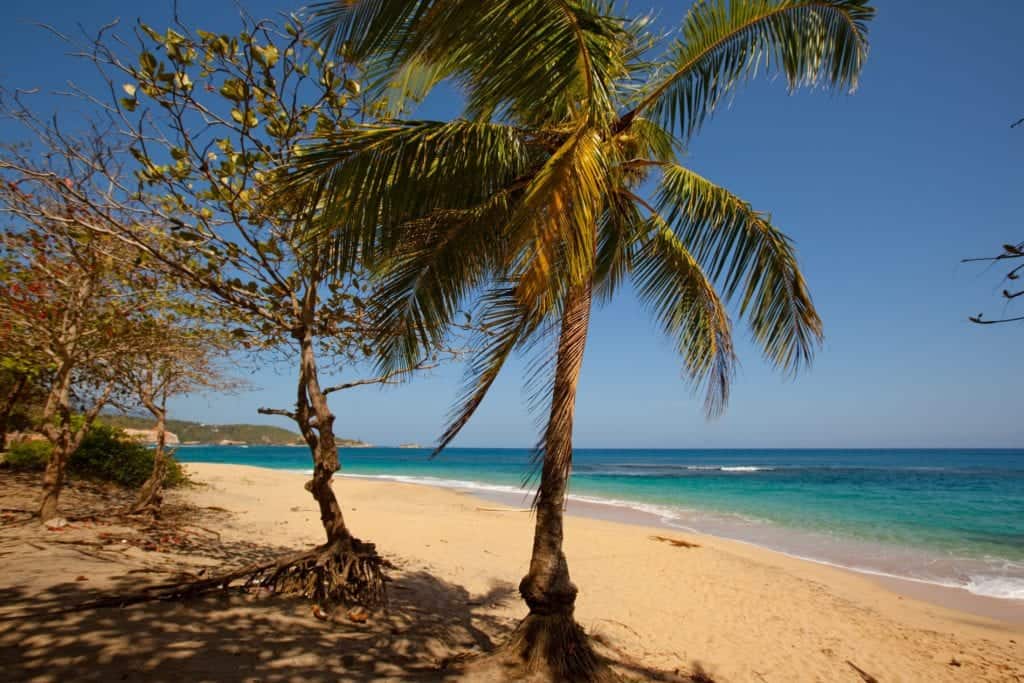 Beaches
Dominica isn't known for its beaches as it's a volcanic island but there are some beautiful sandy beaches to chill on if you need some down time.  We love Batibou Beach – it's a 15-minute hike there but that means you usually have the beach all to yourself. The water is a bit rough so its not great for swimming or kids. If you prefer something a little livelier then Mero Beach is a black sand beach which has calm water, bars, restaurants, music and public restrooms. Purple Turtle beach is great for water sports like jet skiing and sea kayaking.

Hiking, Nature and Wildlife
Discover pristine tropical rainforests, gorgeous lakes and impressive views – hiking on Dominica is well worth it!  If you love wildlife then keep your eyes peeled as there are over 180 species of birds, iguanas, agouti (looks a bit like an oversized Guinea Pig) and manicou (looks like a possum) to see.  The hiking opportunities are also really varied; hike volcanoes, lakes, waterfalls and hot springs.  Whether you class yourself as a hiker or not, there are short hikes that are very easy, intermediate hikes and some hikes that are quite tough so whatever level you are at there is something for you – and there is plenty to see.

Waterfalls
Dominica has 365 rivers and 12 waterfalls so you're spoilt for choice. Trafalgar Falls has two waterfalls with drops of up to 85 meters and it's only a 15-minute hike, there is also hot springs here.  Middleham Falls has a taller waterfall at 200m but it's an hour and a half hike so you might need a dip in the (very cold) pool at the base of the waterfall when you get there!
Ready For Your Next Adventure?
We will arrange everything for you so you have the perfect holiday – at the perfect price. We are award-winning Caribbean experts with 45 years of experience and oodles of happy customers.  Our tailor-made holidays enable you to get to sit back, relax and let us do all the hard work. Have a chat with us today to see what we can do for you or check out our latest Dominica holiday deal.